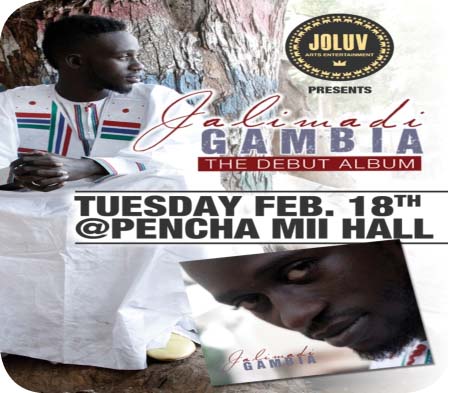 Jalimadi Kanuteh, Gambia's Afromanding singer, has scheduled 18 February 2014 to launch his debut album 'Gambia' which comprises nine tracks.
The event will take place at the Pencha Mii Hall, Paradise Suites Hotel in Kololi.
Hit songs in the album are 'Jarabi', 'Alalakay,' and 'Bintang Bolongdala'.
Its executive producer is Saul Sowe of Joluv Arts Entertainment.
The album was recorded at Raam Daan Studio in Senegal mixed and mastered by Papis Ndiaye and Ouzin Ndoye.
"The highly anticipated 9-track album launching, expected to be in a grand style, will print a landmark in my musical journey as this is my debut album," he told The Point Entertainment and Lifestyle recently in an interview.
The launching will be presented by Joluv Arts Entertainment backed by the Holy Family Band.
Singer, songwriter and instrumentalist Jali Madi is a sensation in the Gambian music and world music.
He defies any easy singing bridge.By turns, he picks an acoustic guitar to accompany his ballads, sings an inspirational song about modern life, plays a sweet Mandingo melody on guitar, swings a hot dance numbers, and then reaches deep for a soulful expression of values in a troubled world.
He tops it all with a Kora tune or old Kuyateh Griot family song -- all skillfully blended into a seamless flow.
A mainstay on the Jaliya traditional music circuit these past years, Jali Madi has collaborated with numerous artistes in The Gambia and performed in concerts with such Senegambia Mbalax and Manding music stars as Jaliba Kuyateh, Vivian, Thione Seck Djibi Drammeh.
Read Other Articles In Article (Archive)