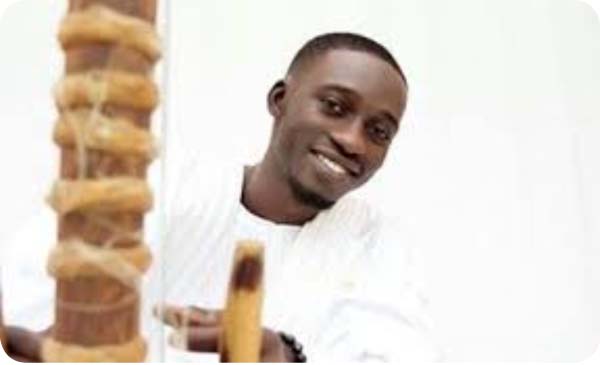 The music of Jali Madi is original griot sound embodied in the cultural fabric of the regions of the ancient Manding empire of Gambia, Senegal, Mali, Guinea and Guinea Bissau.
The instrument that is identical is the kora, a 21-string African harp flute that has been used by folk singers and poets to make music to accompany their ceremonies and music ritual.
Jali Madi is a singer and guitar player with a dynamic band that makes music to demonstrate the beauty of the sound of Kora.
With his songs and his silky approach to the microphone, he dazzles his audiences with a voice of harmony and chromatic flavors that touch hearts and make one wants to knock off one's socks to dance.
The ballads in the upcoming album are innovative, loving and inspirational.
The upcoming occasion is well assembled in a sequence that is intoxicating.
Jali Madi is the son of musicologist and grand master of the African xylophone, the Balafong.
Bana Kanuteh has been referred to as "the great performer", a title reflecting his performance style and musical selections which display his early griot playing and training along with his love of the Balafong and other traditional musical forms.
He travelled the African continent and became fluent in more than 20 languages.
He left a musical legacy that enriches not only his family and his country, but also the Griots and Jalis who have maintained the tradition of Balafong playing, and musicians of every colour and creed around the world.
The father of Jali Madi, Bana Kanuteh, was also instrumental in the development of the National Troupe of the Gambia working with his wife Jali Mamanding Kuyateh and Dembo Konteh, who also played a major part in the development of West African music.
He began to travel in the 1950s and did make his first recordings for the BBC World Service. By the 1960s he had become a major influence on the development of the Gambian National Troupe.
Jali Madi Kanuteh is actually proud of his history, tradition and ability to silence a crowd: "They could just be screaming and getting down, but when he comes out, they would respectfully be quiet," Jali Madi said with his "soft, little voice" that has brought a new level of intimacy and intensity to Manding music.
He never lost the spirituality of the griot singers, whom he sang with as a teenager.
His registered his soft uplifting and gentle, yet powerful voice, and his love songs made you fall in love.
His message songs make you want to go out and do something good for the world.
There's great intelligence and wisdom in his singing. He has so many different textures and dimensions with his voice; it's as convincing as the passion dripping from the lighter-than-air falsetto.
Jali Madi is a perfect musician of innate talent and training.
One of the key elements of his style is how he uses his voice as an instrument.
The beauty of Jali Madi is that his acoustic guitar playing is an extension of his voice.
He's the embodiment of breaking through and keeping one's spirit. When he sings, it lifts the spirit of the place.
The notes that Jali Madi squeezes from his voice are so sharp and pointed that it's easy to overlook the sounds that emanate from his mouth.
Jali Madi brought a new level of sound to Manding Music vocals, beginning with his African Kaabu Kansala tone in his ballads.
His voice encompassed such a deep range of emotions, the widest range of colors of any Manding singer.
The favorite part of his voice is actually his cries. His low, slightly menacing tone made the other side of his singing that much more powerful.
There is a gravity to his tone - with his shades, the African suit - but there was also this impish, elfin quality, and you could hear it when he sing, which he did a lot on stage because he enjoyed performing so much, especially on the Kora tunes.
He brought a new level of ferociousness to Manding Music.
Jali Madi first came to prominence with Block Entertainment. He went on to play with the reggae group Holy Family Band, and to together with Hip Hop Guru Gee Bala Gaye commonly known as Gee.
He is one of the creators of Gambian Manding Rap fusion, an innovative musical genre that combined Manding dovetail vocal with elements of Ethnic and pop styles Hip Hop and world music.
A voice hammered into formed by the throat, given propulsion by bellows of lungs, teased into final form by tongue and lips, a vocal is a kind of audible kiss, a blurted confession you really can't keep from issuing as you make your way through the material world.
Contrary to anything you've heard, the ability to actually carry a tune is in no regard a disability in becoming a world-class Manding singer like Salif Keita, Mory Kante, Alpha Blondy, Sekouba Bambino.
The beauty of the singer's voice touches us in a place that's as personal as the place from which that voice has issued.
"If one of the weird things about singers is the ecstasy of surrender they inspire, another weird thing is the debunking response a singer can arouse once we've recovered our senses," he said.
"It's as if they've fooled us into loving them, diddled our hard-wiring, located a vulnerability we thought we'd long ago armoured over. Falling in love with a singer is like being a teenager every time it happens."
Jali Madi is incomparable; his voice is velvety, smooth, and airy, with an unmistakable tone.
He said: "Singing allows me to express all the mysteries hidden inside
In his advice to young singers, he says: "Just sing the song and say the words."
He approaches singing with impressive seriousness and does not like to improvise and you hear his delivery, and you wish you could communicate with as much honesty and emotion as he does.
Speaking to reporters he once said: "I had to work with that a long time before I got it to perfection.
His pristine falsetto could explode into joy, on that voice he made the thrills and heartbreaks of romance sound equally seductive
With his tone and delivery, you could fall in love with Jali Madi. He sings about social ideas, and he puts them out there so delicately and so lightly, with such a generous groove, a genre angle of vision. Ours feelings and a generous voice.
Angle of vision
There's something about a voice that's personal, not unlike the particular odors or shape of a given human body.
Jali Madi says: "Summoned through belly, hammered into form by the throat, given propulsion by bellows of lungs, teased into final form by tongue and lips, a vocal is a kind of audible kiss, a blurted confession, a soul-burp you really can't keep from issuing as you make your way through the material world."
He added: "For me, Jali Madi is never just the voice. The impact of that voice spreads joy, because it is a simple presentation and didn't trade on range. And there was that scream. It was like an inner voice."
Jali Madi is a complete singer within himself, simply beautiful!
Read Other Articles In Article (Archive)