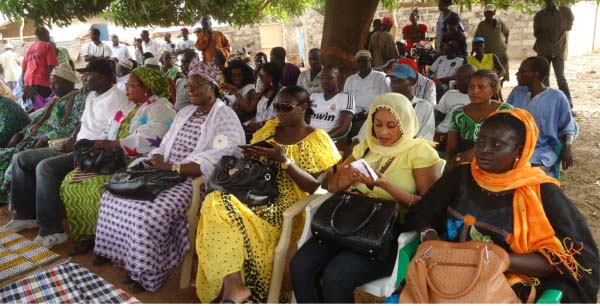 Gamcel, the national GSM service provider, Wednesday launched a new cell site in Welingara Ba village, Jarra East of Lower River Region.
The launching was paraded in a form of traditional performance showing ownership of one of the country's GSM operators.
In commissioning the cell site on behalf of the general manager, Madam Ramou Nyass, Deputy Managing Director of Gamcel, said Gamcel as the national GSM operator belongs to all Gambians and people of the country.
According to her, the launching of the cell site was meant to ensure that Gamcel provide its customers with best, uninterrupted and affordable communication.
This service, she added, would help the people living around Bureng and its catchment settlements to be able to communicate through the Gamcel network effectively.
The people of Bureng and its satellite areas would now access full network and communicate effectively without any difficulty, she noted, saying anywhere they are there is network.
The women, she added, should thank God for Gamcel, where most of the leaders are women, which shows the President's initiative of empowering women in the country.
The chief of Jarra East, Alhagie Ansumana Kanagie, said Gamcel is the first GSM operator, owned and managed by Gambians who have love and development aspirations for the country.
"My district is very grateful to Gamcel for the fact that they have been with the company since its inception and now a new cell site is launched all geared towards strengthening the network to ensure continuity in the provision of quality network for all," Chief Kanagie said.
Gidon Baldeh, the alkalo of Welingara Ba, expressed appreciation for the timely response to the call for installation of a new cell site, which had made it easier for them to have good communication access, as the network "is good and very clear when making international calls".
Mamadou Lamin Jatta, senior marketing manager of Gamcel, said the company is Gambian and as such belongs to the people of The Gambia.
He said the new cell site would strengthen the already existing network for effective communication.
Sarjo Sabally, a women leader, said they have always been with Gamcel since it started operations.
She thanked and assured Gamcel for its full support to the womenfolk, who "are always ready to collaborate with Gamcel".
Awa Jobarteh, senior manager for sales at Gamcel, said the communities within Jarra East had been provided with a new cell site because they wanted them to enjoy all the company's services. 
Read Other Articles In Article (Archive)