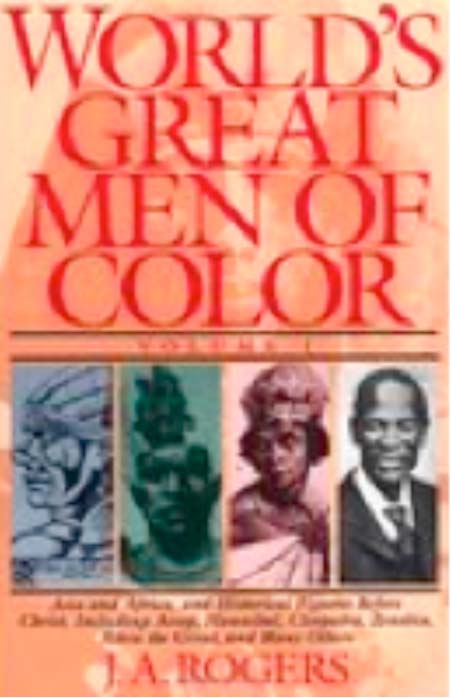 This book every Gambian should read!

This book seeks to decolonize the minds of all Africans because it traces the illustrious careers of great men and women who have left their footprints clearly in the sands of time. In this book by a 1940s American Black scholar outstanding blacks in Asia and Africa are profiled. When you read this book you must be proud of to be African.
One of the great deficiencies of our time has been the insidious and even clear neglect of the story of African achievement and contribution to world history. Our ancestors who did great things for humanity have had their stories and heroism relegated to the backburner, so to say. In many cases, African heroes have become villains! Our freedom fighters have become terrorists etc. In the same vein, those Africans who oppress and terrorize their people have become saviours!
Close to a 100 people are profiled in this book: they share the commonality of being Black and of African origins. From the famed Queen of Sheba in the centuries before Christ to Chaka Zulu(p.267) to Samory Touray(p.344); in this book Samory is called 'The Napoleon of the Sudan' for his strong resistance against the French in the 1880s. Samory built a great empire which covered the whole of West Africa today.
He built an advanced administrative, economic and social and political system which even his enemies could not but accept. 'He is handsome, brave, very intelligent' a French General wrote about Samory . The revered Ethiopian Emperor Haile Sellasie I is also profiled 419-431; a much long entry which is indeed deserved for his role as a political and spiritual leader who stood against and defeated the Fascist Italian conquerors in 1941.
He stood for the dignity of the African and indeed was the prime mover in the formation of the OAU in 1963. Sadly, he met a tragic fate in 1974 when a band of soldiers killed him in an army coup.
Indeed, the streak of treachery against great Africans by the fellow African brothers and sister is writ large in this book. Most of the champions of African dignity ended up been betrayed or destroyed by fellow Africans as in the case of Chaka and Bambata the Zulu resistance leaders profiled on page 363. Throughout the book the author who is a pioneer exponent of African studies in the US in the 1940s reveals the efforts of individual Africans to stand up against oppression and injustice and foreign domination. He is able to context where these men and women operated under so as to put into tasks the focus the herculean tasks they had to surmount in order to be great.
This is a highly inspiring book. It is a kind of tome which you read a tiny bit daily until you digest it all and then you will be an even more confident African. Africa has produced great men and women.
Available at Timbooktoo.4494345
Read Other Articles In Article (Archive)