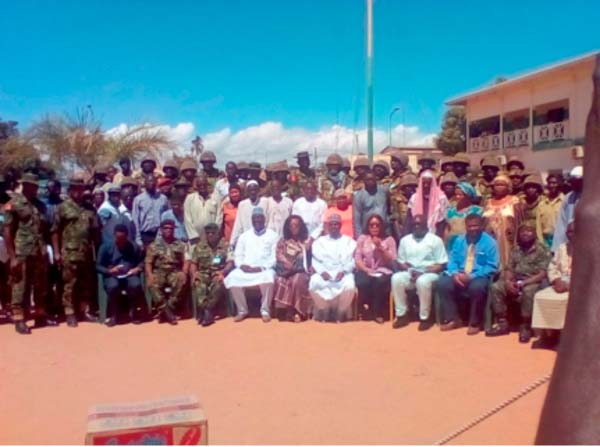 The Nigerian contingent in The Gambia under the ECOMIG peace keeping mission recently presented food items to the Edward Francis Small Teaching Hospital (EFSTH) in Banjul.

The ceremony was attended by senior government officials, the high command from the Ministry of Defense of The Gambia, Nigerian High Commissioner to The Gambia as well as ECOWAS representative Gambia office.
Speaking at the presentation ceremony held at the hospital ground, Dr Amadou Samateh, Chief Medical Director of the hospital, pointed out that the presentation a very important occasion as the hospital is used as the centre where medical students are trained to become doctors.
He said the coming of the Nigerian contingent to the hospital was very important and Gambians owes gratitude to them, adding that a patient is a vulnerable person and the hospital has benefitted immensely from Nigerian medical officials.
For his part, the Nigerian High Commissioner to The Gambia, Alhaji Mousu Abdourahman, said the Nigerian contingent in The Gambia under the auspicious of ECOMIG decided to send relief materials to the patients at the hospital.
He said the gesture would boost the image of Nigeria in The Gambia, adding that the relationship between The Gambia and Nigeria is very strong.
Lt. Colonel Mohammeh Sani Adamu, the Nigerian contingent Commander, said the Nigerian Armed Forces has more capacity to assist in terms of needs in line with the constitution of the Federal Republic of Nigeria.
He said the presentation of the items was not new to them and that the relationship between The Gambia and Nigeria is clean and healthy; a win-win situation, stating that the peoples of the two countries have been benefitting from each other.
He called on the ECOWAS and the Nigerian representative in The Gambia to let them know that they have invested in boosting humanitarian gesture in The Gambia.
Dr Adama Sallah, Chairman Board of Directors of EFTSH, said ECOWAS sent their troops into the country to avert a situation that could have been disastrous for The Gambian people, for West Africa and for the world.
He expressed gratitude to the entire ECOWAS mission, particularly the Nigerian contingent for engaging in another wonderful gesture of providing food and drinks for the patients.
The donated items included three hundred packs of bottled water, five bags of sugar, groundnut cooking oil, washing detergents, onion, juice, Irish potatoes, and chicken among other items.
Read Other Articles In Article (Archive)