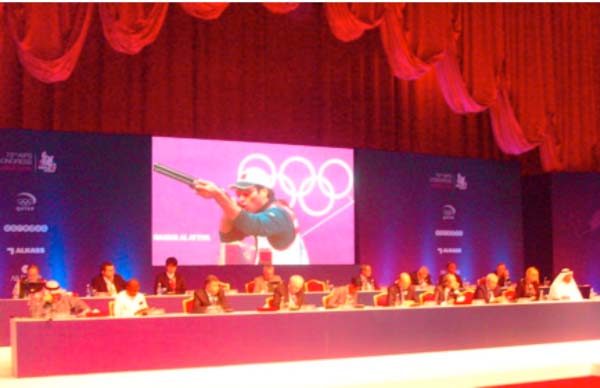 T
he president of the world's sporting press – the International Sports Press (AIPS), Gianno Merlo, has reminded delegates attending the 79th Congress in Doha that it is their responsibility to fight against any form of corruption in sport.
He was speaking on Monday during the opening of the Congress at the Sheraton Hotel in the heart of Doha, which was equally attended by the Qatari Prime Minister Sheikh Abdulla Bin.
Sports journalists representing over 100 sports associations around the globe are currently converging in Doha for this all-important meeting.
The Sports Journalists' Association of The Gambia (SJAG) is being represented at the Congress by president Musa Sise and secretary general Alieu Ceesay.
According to him, millions are employed in sport and therefore, it should not be allowed to fall. "It is us [sports journalists] that should fight corruption," he told the delegates, citing match-fixing and other menace as a concern.
While thanking the Qatari authorities for wonderfully hosting the event, he said the event has once again shown the reality of Doha.
The year 2015, according to the AIPS president, has been an eventful one for AIPS, and he thanked delegates for attending the congress in Doha.
The global sport, he observed, has been in turmoil in recent times, citing corruption as a menace that needs to be stamped out.
He urged journalists to do away with corruption to not lose their credibility and integrity.
"We must be careful and we need to come out clean as fighters against corruption in sport," he told delegates. "We must not give up."
The meeting was preceded with presentations by the Qatari Olympic Committee Secretary General, H.E. Dr Thani Al Kuwari, who said Qatar is glad and proud to host the AIPS congress together with other important sporting events in the near future.
Massimiliano Montanari of International Centre for Sports Security (ICSS) said the ICSS is a globally renowned and respectable leader in sports safety, security and integrity.
Sports journalists, particularly investigative journalists, are critical partners in bringing about sanity in global sport.
Also officials from the Qatari Rail and Qatari Supreme Committee of Delivery and Legacy made presentations on the ongoing works in preparation for the 2022 World Piece.
According to them, the hosting of the World Cup is very much important and unique to Qatar. The country, they told delegates, is on track to hosting the best World Cup ever.
There were similar presentations by Oleg Matytsin, president of FISU and Lukas Achermann, head of Events Services at the UEFA, who briefed delegates on the progress made ahead of the EURO 2016 in France.
Meanwhile, delegates unanimously adopted the reports by the president, the secretary general and the treasurer for the year under review.
The delegates yesterday participated in the Qatari National Sports Day before converging for another extra presentation on the topics 'Sports Journalist freedom in danger - petition and limitations' and 'Ethics in sport and journalism'.
Read Other Articles In Article (Archive)