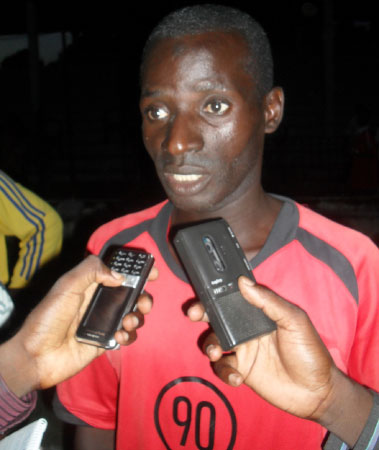 Lamin 'Dugal' Jammeh, head coach of Serrekunda East zonal team, has said that it is not yet over for his side until all is over.
Jammeh made these remarks during an interview with reporters, following his side's 0-0 draw with Manjai zonal team in the ongoing Gambia Football Association Super Nawetan Championship played at the Father Gough Sports Complex in Manjai Kunda on Monday.
Dugal, as he is widely called, added that the game was a bit difficult for his side in the first half, but that they played well in the second period.
He noted that Manjai Park is different from Serrekunda East, and that this has also affected them during the game.
"I'm happy that the game was played in a peaceful atmosphere", he also said, describing the game as fair.
"We have a 30-man squad, and we give chance to every player to prove himself", he stated, adding that nobody can predict football.
Ismaila Colley alias Busso, captain for Serrekunda East zonal team, said they played well and hard chances, but could not capitalize on them.
He also expressed confidence that they will qualify from the group stage to the next stage of the competition, adding that the team has big players.
Omar Jobe, head coach of Manjai zonal team, said he was delighted with the performance of his team against Serrekunda East zonal team, describing his opponent as a powerhouse in Gambian football.
"Serrekunda East zonal team made it difficult for us in our own home grounds", he remarked, describing Serrekunda East zonal team as the best team they have so far meet in the competition.
"I'm satisfied collecting a point against Serrekunda East because this is our first experience in the competition", he stated further, noting that they do not fear any team in the tournament.
"We still have a long way to go, and we have to respect our next opponents (Gunjur zonal team)", he also said, adding that their destiny lies in their own hands to qualify from the group stage.
He said they will go all out for victory against Gunjur, adding that they are playing for the community of Manjai.
"We have a big task, but we would do our best", he said, noting that the fans also have their part to contribute.
Ebrima Busso, captain for Manjai zonal team, began by thanking the coach, teammates and fans, adding that football is all about determination.
"Serrekunda East has more experience players than us", he stated but that there is no fear in football, noting that they would prepare well for Gunjur, as they did against Serrekunda East.
Read Other Articles In Article (Archive)