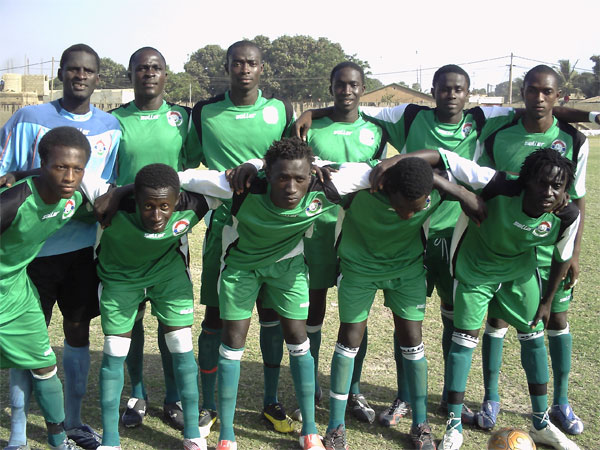 Following bad performances in the ongoing GFA first division league, it seems like the Gambia Port Authority Football Club GPA is really in crisis with only two wins in 16 games played in the 12 team Gambia Football Association domestic league.
The Ferry Boys' lack of form in the 2007/08 first division league season competition has surprised a lot of football fans and the team fans too after playing 6 games in the second round without a win. The issue is what is going on with GPA FC? Is the sacking of Coach Ebou Cham Joof Luckeh the solution? Is the departure of Coach Alhagie Sarr the cause of damage in the team? Has the arrival of Faraba Fofana not workable? Are the players committed? Are there any differences in the dressing room? All these questions hang like a dark cloud over the team.
GPA was known as one of the best teams in the domestic league with the type of players they always produced. They still they have the same quality of players in the team, with the likes of Sanna Nyassi, Mandou Bojang, Furmus Mendy, Bun Gaye, Hatab Fadera,  Abdourahman Dampha,Hajie Tunkara, Alasan Jarju, to name but a few. With this bunch of players in the team they cant still produce good results, what is happening to the team? The team needs to be focused if they want to stay in the first division league, the technical staff need to do their home work and the players have to commit themselves.
GPA won the 2007/08 super cup and were out of the confederation cup of CAF, and still struggling in the GFA league with 16 games played two wins nine draws and four losses. They have 15points and are struggling at the bottom of the league table. We have been saying that the 2007/08 GFA national league will not be an easy league this season as there is no under dog team, but we expect the likes of  GPA to bounce back in the league, the  team must work together as a team, the technical staff and the team management has to put all instruction in place to see the team get moving.
Results of week 16 of the GFA first division
Sea view 1-0 B/ United, Hawks 1-1 Real, Steve Biko 0- 0 Saitmatty, Wallidan 1- 1 Gamtel, Interior 0-0 Armed Forces, GPA 0- 1 Samger.
Standing table of the First Division League
Wallidan                 30 points
 Samger                  29 points
 Hawks                   25 points
 Real                      24 points
 Steve Biko           20 points
 Saitmatty             19 points
Armed Forces       19 point
Gamtel                  19 points -3
 Sea View             18 points
GPA                      15 points
Bakau United        14 points
Interior                  12 points
  Quarter final fixtures
Fri 13/0/08 Siffo vs Kartong
Sat 14/0/08 Sanyang  vs Tanjeh
Sun 15/06/08 Nyofelleh vs Farato
Read Other Articles In Article (Archive)