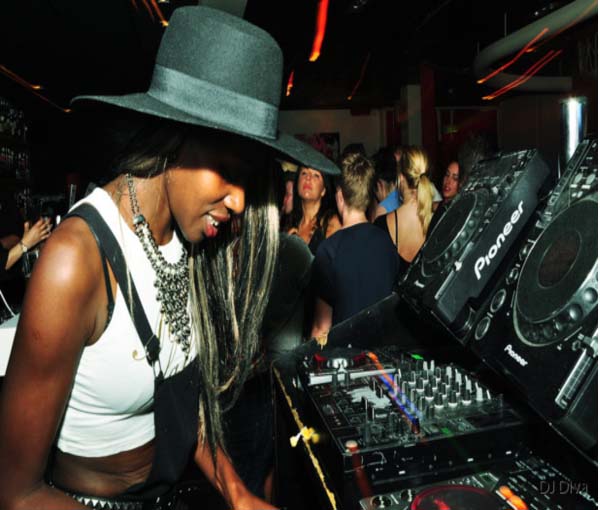 Her real name is Aysha Jones-Ceesay. She was born in The Gambia and raised in Sweden. A mother of three lovely kids age 9, 4 and 3.
Known more to the public as the "fashion entrepreneur" behind Runway Productions, Rare Models International and co-organiser of The Gambia Fashion Week, DJ Diva was schooled by Sweden's most prominent female DJ, Katja Gustafsson.
The Stockholm-based Gambian female DJ has vowed to send Gambian talents across the borders of music.
She said in an interview: "I'd love for Gambian artists to send me their music … so that I can start playing it and help Gambian talents cross the borders of music."
Relax and read the interview:
What motivated you to take up DJing as your new career?
DJ Diva: I've always been close to the culture of DJing due to my work in fashion, whereas a DJ is always needed and used in fashion shows and mingle events.
At a very young age, I knew one day I'll also become a DJ but I didn't plan on it being one of my professions as I'm really not good with electronics and such. I'm more of a fabric, paper and pen type of girl! But as soon as Katja [Gustafsson] took me under her wings and allowed me DJed two of her highly successful events bookings - started pouring in and crowds showed me more love than I expected.
I'm now guest DJing at some of Sweden's most prominent clubs and festivals with more to come by the grace of God. For now I'm just having fun with it and enjoying the ride.
I don't think I'll become a famous DJ or so. I'm just glad to master the art and if my managers get me a booking or two that's just a bonus! DJing to me is just another way of expressing fashion, entertaining people and acting as a coach to my younger sisters. I'm not a traditional DJ as I see it as a movement and have built up a team of creative young talented souls that act under this movement as my showgirls, promoters and more.
My showgirls, Fatou, Bongeline and Valentina have their own fans and followers as they are very outspoken, friendly and know how to bring a crowd! They will soon be launching their own mingle events and web-shop which is all a part of the DJ Diva's movement.
As a DJ what type of music do you usually play?
DJ Diva: It's difficult because I like all kinds of music. I really listen to everything with a danceable beat to it. May it be hip-hop, Rnb, dancehall, afro beats or even dance, electronic or trap.
I like and play it all. I'd say it depends on what time I'm on stage and to which crowd. Also on the client and what they want me to play. Sometimes you get booked to play a specific music and then you just go with that. I prefer to mix it all up thou! Let me add by saying that I love to play exclusive tracks haha! Like the songs of the upcoming Swedish artist Raven.
I was the first, worldwide to play both her tracks (Turn up and Freaks). She is a close friend and it was so fun to see people dance to it and then come up to me and ask me where they can find those tracks!
I understand you have been performing in festivals, clubs and shows. Can you name a few of the DJs you line-up with during those shows?
DJ Diva:I've played at Debaser Medis [in Sweden] twice, once was before the Swedish radio host Thobias Thorwild and others.
Thobias is just awesome, we joke around Afro-Swedish house Razzia and touring around the world. Love him he is so humble and kind, an amazing and good hearted spirit!
At Göta Källare I played prior to another amazing DJ who has actually been to Gambia last year. DJ Alex D'Rosso, mad respect for that guy! I'd love to be his sidekick and play with him every weekend! I've also played at Café Opera last week and this month I play at two festivals called Festival för 17 and Feminight, both are big events for charity and to raise awareness against different causes.
I've also been invited to play at Barbro this September alongside the famous DJ Kenny Black who is the real deal playing on vinyl discs! I might go to London for a few days in October and play there, but for now it's not yet confirmed.
I think it helps knowing the right people and I've met a lot of good ones through my work as RPI. Many of my clients and co-workers from there help spreading the word about me now becoming a DJ.My unique concept also helps the process and gets me and my team a lot of attention.
You have couples of mix. Can you tell us how much mix do you have, and did people appreciate them?
DJ Diva: For now I've only uploaded three of my mixes. I've only recently started seeing myself as a DJ and haven't had time to record more. But I plan on dropping a new mix every once in a while. I asked a female network to give me feedback on my mixes, and the response was overwhelming.
Also the mixes I upload on my SoundCloud are mixes I've played in clubs first so as they worked in the clubs I upload them on Soundcloud so people can listen to them whenever they want and feel like.
As a DJ what is your vision and mission in the entertainment industry?
DJ Diva:I really don't know if I have a vision yet. For now I just want to have fun with it and make people happy and get my crowd to dance. Perhaps my mission as a DJ is to develop a more fashion-oriented way of DJing as I combine the two art forms in my movement.
With that I mean that I don't "only" DJ as of playing music for the crowd; I also offer them a live fashion experience from the DJ booth and on the dance floor with my showgirls. For example, we make it about fashion and as well by having two outfits minimum at each gig.
It's a mini fashion show; whilst we are making people dance to the beats they also get to see the latest fashion trends!
As a Gambian DJ do you play Gambian music in clubs or festivals in Sweden?
DJ Diva: I'm sorry to say, no I don't. I don't know much about Gambian artistes and where to find their music. I do like their music though. Artistes like T Smallz, and that cool guy with the funny hat Manding [Morry].Also Gee and the upcoming artiste Aminatah.
I think the closest that I've come to playing Gambian music is all the tracks by superstar Mary N'diaye. I play her songs frequently and also listen to them privately. Love that girl and her stage presence is crazy! I'd love for Gambian artistes to send me their music …. So that I can start playing it and help Gambian talents cross the borders of music!
Read Other Articles In Article (Archive)