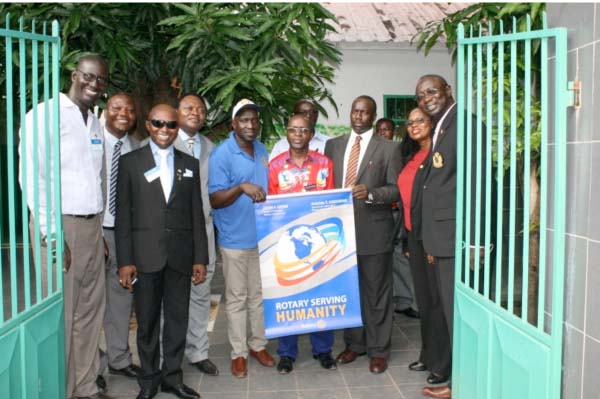 The 2016-2017 district governor of Rotary Club International, Aristide Tino Adediran, on Tuesday visited the Water and Sanitation Hygiene (WASH) project at the Edward Francis Small Teaching Hospital (EFSTH) in Banjul.

The district governor's delegation was led by the president of the Rotary Club of Fajara, Madam Wadda, and other members of the club.
The WASH project was sponsored through the efforts of Rotary Club of Fajara to provide sanitation and shelter to the families of patients and escorts at the hospital and beyond. The project comprises facilities such as water, toilet, and shelter among others.
The district governor's visit was part of his mandate to visit project intervention sites of various rotary clubs in The Gambia.
Upon his arrival at EFSTH, District Governor Adediran was received by the hospital's public relations officer on behalf of the management.
The delegation to the hospital included the minister of tourism, Benjamin Roberts who is also a Rotarian, Rotarian Ozuma, Rotarian Sainey Manneh who is the public relations officer of Rotary Club of Fajara, Rotarian Minyany Jobe, and Rotarian Ebrima Toure, former president of the Rotary Club of Fajara.
The delegation was taken on a conducted tour of the hospital to avail the district governor the opportunity to see firsthand some of the major developments of Rotary Club of Fajara at the hospital.
The public relations officer of EFSTH, Modou Lamin Jammeh, said the visit is a clear indication of the close partnership between the rotary club and the management of the hospital.
He commended members of the Rotary Club of Fajara "for their immense contribution and support" towards the improvement of service delivery.
PRO Jammeh said the hospital has received a lot of gifts from the Rotary Club of Fajara and "that has really reduce some of the major burdens of the hospital".
He noted that the relationship between the hospital and the Rotary Club of Fajara will continue to growth from strength to strength in the interest of national development.
The hospital officials said the WASH project is one of the most important projects that the hospital can always boast of.
"The facilities of the project greatly help the families of the patients admitted at the hospital here especially during the rainy season," Mr Jammeh said. "Today, the whole Gambia is benefiting from this shelter."
The minister of Tourism, Benjamin Roberts, himself a Rotarian, said it is a common practice every year that a new district governor go round to various countries to meet with rotary clubs to discuss with them and visit their projects.
Read Other Articles In Article (Archive)