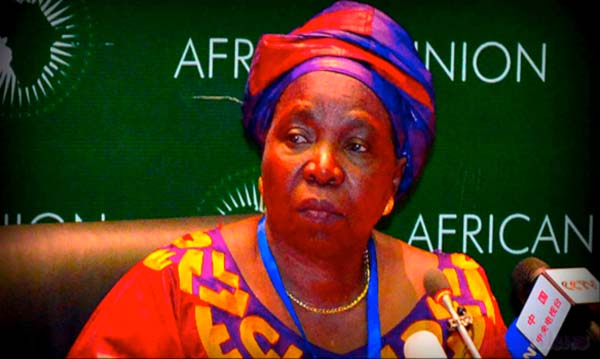 The vision of a peaceful, united and prosperous Africa set out in Agenda 2063 could be achieved through sound planning and result-oriented policies and actions.

"Agenda 2063 has been adopted by our Heads of State and Governments as the continent's new long-term vision for the next 50 years," said Dr Nkosazana Dlamini Zuma, Chairperson of the African Union Commission.
Dr Dlamini Zuma's statement was read on her behalf by Dr Aisha Abdullahi, Commissioner for Political Affairs at the African Union, at the International Human Rights Conference held in Banjul in the ongoing 59th ordinary session of the African Commission.
The International Human Rights Conference was attended by justice and foreign ministers from across the African continent and international human rights institutions.
"The realisation of our common vision of a united and prosperous Africa anchored on a culture of human rights as envisaged by Agenda 2063 requires our common resolve," she said.
The gathering was evidence of their collective dedication and commitment to this goal," Dr Dlamini Zuma added.
The 59th ordinary session is a joint-session as the African Year of Human Rights, with particular focus on the Rights of Women, on the theme: "Women Rights Our Collective Responsibility."
The AU Chairperson added that the African Human Rights system is structured in such a way that it protects human and the collective rights of people.
Whereas civil and political rights remain a challenge in Africa, by far the biggest challenge relates to the promotion and protection of the second generational rights (socio-economic and cultural rights).
"This requires us to focus our eyes on how best to advance rights that address underdevelopment, poverty, inequality, marginalisation and exclusion on our continent as we make concerted efforts towards effective implementation of Agenda 2063," she noted.
She maintained that they have to redouble their efforts to ensure African people enjoy the right to food, the right to safe water and sanitation, the right to housing, the right to education, the right to health, the right to decent clothing, the right to clean environment, among others.
"These are the basic requirements for a decent standard of living, even before they could think of the right to vote, she continued.
She asked how on earth could an elderly woman, who is impoverished and living in a remote rural area, feel when compelled to take a long journey to a polling station on an empty stomach and cast her ballot in an election.
Socio-economic rights are as important as the political rights, she declared.
"In order to promote gender equality as we advance these socio-economic rights, we need to make deliberate efforts to empower African women socio-culturally, politically and economically."
Ms Zuma said the African continent has witnessed decades of numerous human rights challenges resulting from a diverse range of factors, which include, among other things, war, poverty, corruption, autocratic governance and exclusion of women.
It was against this background, she noted, that the AU member states of the then Organization of African Unity (OAU) solemnly resolved to promote and safeguard freedom, justice, equality and human dignity in Africa by putting in place instruments and mechanisms to enforce these values.
Read Other Articles In Article (Archive)