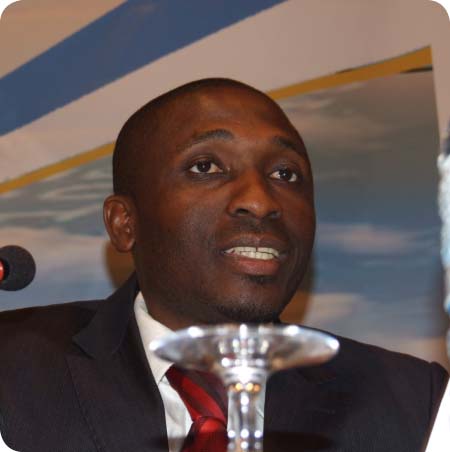 The deputy permanent secretary at the Ministry of Information and Communication Infrastructure (MOICI) has disclosed that internet bandwidth has increased fourfold in The Gambia since the installation of the African Coast to Europe submarine cable (ACE) some two years ago.
DPS Lamin Camara said the Information ministry, together with ICT industry players in The Gambia, has "worked diligently" to improve telecommunication infrastructure in the country.
Speaking at the ongoing three-day summit (5 -7 March) on African Growth Through Technology held at the Kairaba Beach Hotel in Senegambia, Mr Camara said his ministry has also initiated successful projects such as ACE, which "has increased the bandwidth in the country" allowing for "faster more reliable" internet service.
"With this, bandwidth has increased by fourfold, from 4 STM1s to 16 STM1s and more bandwidth is still lying out there," DPS Camara disclosed.
Despite fulfilling the international connectivity, he explained further, "we are pursuing the rehabilitation and expansion of our national backbone through the ECOWAN project."
Mr Camara added that his ministry is still on its toes looking for more viable ways of improving the fiber connectivity within the country to be able to connect the entire nation with a high speed fiber transmission to businesses and end users to exploit the benefits of broadband for enhanced economic growth.
"All these efforts are geared towards the rehabilitation of Vision 2020 goals envisioned by dynamic leader His Excellency, the President of the Republic," he said, adding that the increasing bandwidth also supports the Programme on Accelerated Growth and Employment (PAGE).
"With such infrastructure projects in place it is important that we look at how we can exploit it to build our economy and create jobs," he says, adding: "My ministry is in full support of this momentous event [African Growth Through Technology Summit], which is not only a new initiative, but an exemplary example of public private partnerships."
The 2014 African Growth Through Technology Summit (AGTTS) programme was organised by the Information Technology Association of The Gambia (ITAG) in collaboration with InSIST Global Gambia Limited.
The three-day summit has been edifying participants, discussing and showcasing topics centred on "how software and related information technology can transform Africa out of Poverty".
The AGTTS engaged all key stakeholders - in African industries, development agencies working in Africa, and young African ICT entrepreneurs - in order to enhance African potential, within the framework of leveraging on the tremendous strides made in ICT infrastructure across the continent to accelerate Africa's growth through information communication technology.
Young Gambian entrepreneurs at the summit are seizing the opportunity to showcase their capabilities and skills as well as get exposure to market themselves and their outputs.
Read Other Articles In Article (Archive)