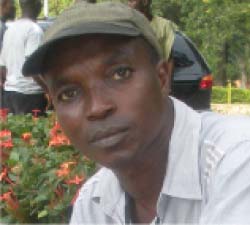 The 10th International Workshop on Art ended with the opening of an art exhibition at Zaria on 15 of September 2009 at the Design Departments of Ahmadu Bello University.
The art workshop which opened on Thursday 8 September,2011 featured over 50 participants, including 7 foreign artists from the Gambia, Senegal, Togo and Benin Republic.
During the 7 days workshop, the artists engaged recyclable materials within Zaria environment in creating over 120 art pieces. International participants from the Gambia included the painter Malick Ceesay, texile artist and fashion designer, Amie Puye, and the coordinator of PACA Gambia, and Modou Camara. Other participants were Artmerh Assogba from Togo, Ferreol Yamadjako from Benin Republic and Mor Faye alias Murf who is the President of the visual artists of Pikine city in Dakar, Senegal. Lectures and slide presentations on various themes were given by professor Tonie, Jerry Buhari, Dr Ken Okoli, Ayo Aina, Chike Obeagu and Okeehuwu Eze.
Speaking in an interview with Entertainment on Wednesday at The Point  offices, Modou Camara a studio artist, teacher and sculptor said the workshop was very successful,noting that a lot of things were learned during the workshop.
He added that art is everywhere, and that it was a unique experience as it brought together artists from different academic and geographical backgrounds.
It gave the Gambian artists, who have had no opportunity for higher academic art training, the chance for artistic exchange with their colleagues from the academic environment. According to him, the workshop also offered an opportunity for older artists who are art teachers from different schools.
Mr Camara went on to say that workshops are organized to create an avenue for inter cultural dialogue and artistic exchanges between young artists of various artistic backgrounds. It operates as a mobile workshop as venues shift from one location to another in order to access peculiar waste materials offered by different environments. Since the inception of Art  in 2005, over 250 artists have so far benefited from the project. Mr Camara therefore thanked Oko Drammeh and the NCAC for their support.
Read Other Articles In Article (Archive)