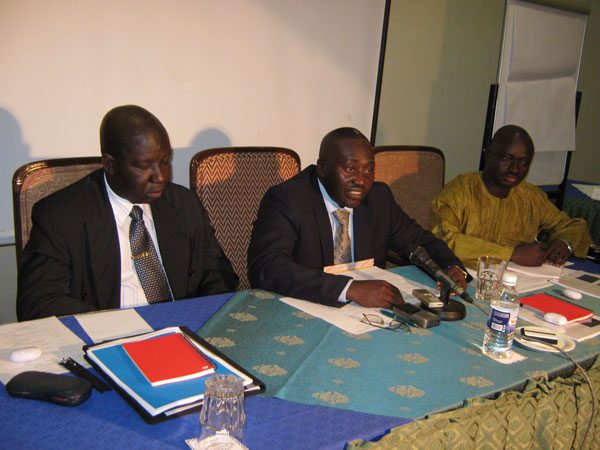 A two-day international seminar on oil and gas operation and accounting opened yesterday at the Kairaba Beach Hotel, Kololi.
The retreat is organised by the Office of the President in collaboration with Buried Hill, a Canadian company in the country.
In his opening remarks, Mr.Ebrima Camara, permanent secretary office of the President who deputised for the secretary general and head of Civil Service, outlined the synopsis of the training.
He said that the seminar is organised as the first step to introduce the knowledge of the operations and accounting procedures of international oil and gas business to the relevant stakeholders in the upstream petroleum sector in The Gambia.
According to him, the training will be conducted by Price water house Coopers one of the leading international oil and gas accounting and auditing firms in the world.
The forum, he said, will in addition to accounting procedures provide participants with an overview of all the aspects of petroleum cooperation from exploration to production.
He used the opportunity to hail Buried Hill for their partnership with the Gambian government. "You may recall that in September 2006 Buried Hill signed two exploration licenses with the Gambian government these are A1 Alhamdulilah and A4block located in alter deep water off shore," he said.
Since 2006, he continued, the company has carried out detailed geological and geophysical assessments of the two areas and the company is poised to drill in the near future as soon as a suitable deep water rip is available.
The company, he added, has been very supportive in the areas of training and building the capacity of the Petroleum Commission and The Gambia National Petroleum Company in critical areas of need.
"You may recall that barely months ago when we received 25 young Gambians who graduated in petroleum engineering  at PSC level from Taiwan, two more Gambians have just recently returned with masters degrees  reservoir engineering and geophysics  and another two are currently studying masters degrees in petroleum engineering  and petroleum geosciences".
He said that in order to further enhance the professional capacities of the graduates, arrangements are ongoing to further train them in various specialties of the petroleum industry.
He revealed that the two-day seminar will enhance the participants knowledge in areas such as accounting procedures, petroleum economics, law, taxation and environmental management.
Permanent Secretary Camara urged the participants to take the training seriously.
Read Other Articles In Article (Archive)