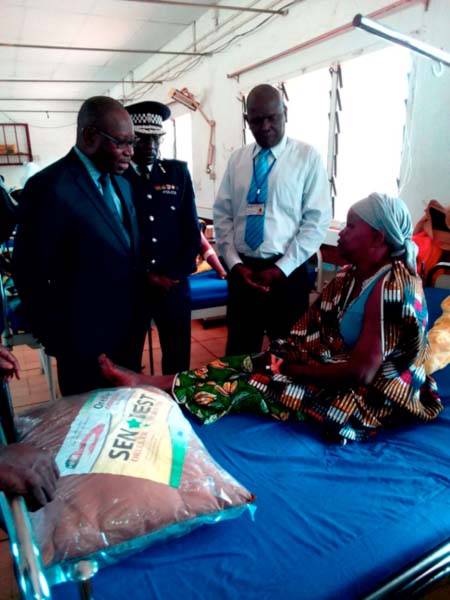 Interior Minister Mai Ahmad Fatty yesterday visited no fewer than five police officers in hospital in Banjul – two days after their patrol vehicle involved in a fatal accident near Kiang Kaiaf in Lower River Region at the weekend, Friday 21 April.

One officer lost his life in the vehicle crash.
Reports said the accident happened after a tyre burst sending the vehicle into a fatal somersault, leaving the driver dead on the spot.
During his Monday visit, Minister Fatty, accompanied by the Inspector General of Police Yankuba Sonko, stayed on the victims' bedside for almost an hour – and prayed for their recovery.
He told the survivors: "I'm here to show our support and to wish you well. We are very proud of you – and proud of what you're doing for your country.
"We regret that this happened… and that is to indicate that we will never abandon you. We will never abandon any of our service men and women.
"We pray Allah restores your health to normality; get back to your feet and return to serving your country – something you're very proud to do. We are with you."
For their part, the victims expressed delight that the Minister took time out to visit them in hospital.
Captain Sulayman Sibi, one of the survivors, said: "We thank you for your visit and I pray that such incident would never happen again. We would like you and the entire government to keep us in your thoughts and prayers."
Read Other Articles In Article (Archive)