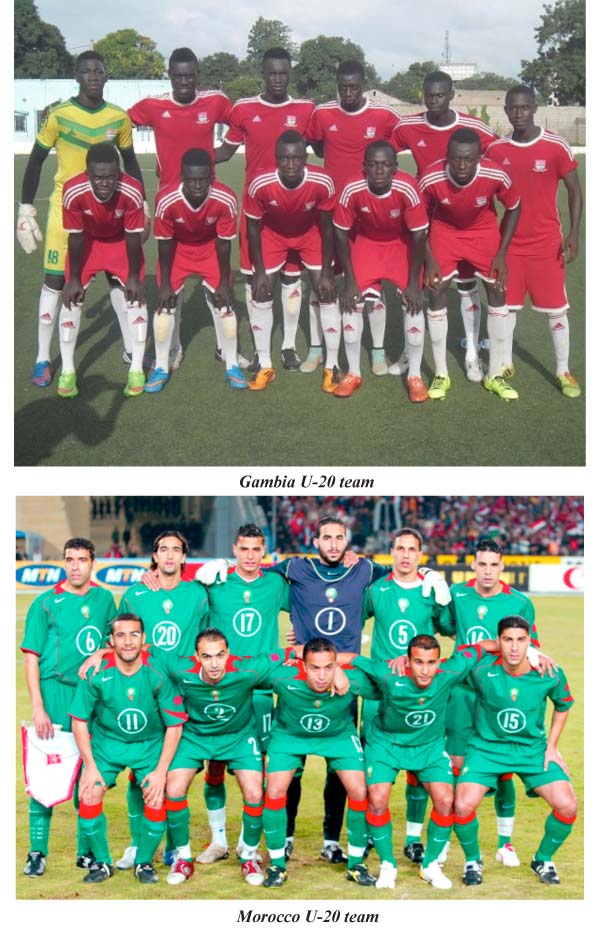 The Darling Scorpions of The Gambia on Saturday 21 May 2016 defeated their Moroccan counterparts Young Atlas Lions by a goal to nil in the first leg of the Second Round of the African U-20 Youth Championship Qualifiers played at the Independence Stadium in Bakau.
Pa Omar Jobe was the hero of the day for The Gambia; he scored the only goal of the game in the 44th minute of the keenly contested encounter to give The Gambia an edge over their counterparts, as they go into the second leg to be played on 12 June 2016 in Rabat, Morocco.
Speaking to reporters at a news conference shortly after the game, Omar Ceesay, Gambia Under-20 head coach, thanked the Almighty God for giving his side the victory they "prayed for".
He said it is never an easy game playing at home but they would thank God for giving them the 3 points.
Coach Ceesay said they are going to Morocco with the determination to bring home another 3 points in order to get to the next level.
Ceesay, who took charge of the Darling Scorpions less than a year ago, pointed out that lack of scoring has been a weakness for Gambian players. But that situation would change over time, he added.
He also attributed their success to the support received from all stakeholders in the country's sports fraternity.
He especially thanked the Gambia Football Federation, the Ministry of Youth and Sports, the National Sports Council, the media and the general public for their support.
It is easy when you have people behind you, he said, adding that they prepared very well for the game but a bit disappointed with the single goal his team scored.
He said they would prepare well for the return leg, noting that as a coach he is never afraid of an away game.
"A home game worries me more because if I lose at home it is a shame on me," he said.
"We will go to Morocco and with the help of the Almighty bring victory for Gambians," he went on, saying football is all about strategies, and entirely the first leg was Gambia's, who were just unfortunate to have not scored more than a goal.
He said he was a bit disappointed with the turnout of fans because he believes the crown should have been more after they eliminated. He therefore urged them to come out in their numbers in our next game and give them their support.
"As a coach I am not boosting but I am here to work - if it is money I am not here for money – I am here to work and with the help of God I will bring something for Gambians," Ceesay said.
For his part, Mark Wotte, Morocco's Under-20 head coach congratulated Ceesay and his boys for the victory.
"I was not really happy with my team's performance, especially during the first half," he said, adding that they can play much better and will do their best to achieve good result in Morocco.
He said his side's second-half performance was better after they made some changes and also gave instructions to their players.
He said their objective will be to score 2 more goals than The Gambia, which will be tough but said he is sure his players have learned a lot during this game and would take in to the return leg.
He described their experience playing in The Gambia as "very good", saying The Gambia team is a setup of "very good youths" with some very good individual players.
The Gambia made mistakes they could not capitalise on, he said, but was quick to add that The Gambia created more chances to score.
"We have learned a great lesson that we have to push ourselves to a higher level," he said, adding that the return leg will be an interesting and hectic encounter for both sides.
"I am pretty sure my players will take today's experience to the return leg," he said, adding that "fortunately" for him he would have 2 extra players available who were not in the first leg.
"The problem with the Gambian tactic is that Abdoulie Jallow is playing a key role in that system and we did not deal with him in the first half," the Dutch tactician admitted, saying the Gambian skipper was less influential in the second half after he instructed his players to deal with him.
"We are beaten but the battle is not over and I am sure we will see a very interesting game on 12th June from both sides," Wotte said.
He said they had learned from the first game and would take that experience to the second game, adding that they had less problems with The Gambia in the second half than they did in the first half.
"We gave away 4 chances in the first half," he observed but said, "it is all about experiences".
He also said that, maybe one or two of his players were not ready for the intensity of the game against The Gambia, who have a good physical and aggressive side.
The experience would help them to beat The Gambia at home, he stated, admitting that the Gambian players know each other very well compared to his side.
"We have a lot of preparation to do," he further said, adding that they have up to 7 players playing abroad.
They have a player from Real Madrid who was not available - one from Borussia Dortmund and another from AC Milan who were also not available, he added, saying these players do not spend much time in Morocco and as such they prefer to play the local players.
Their individual talents are without a double key but as a coach if their clubs are not cooperating to release them you have to accept, he admitted.
"If you lose 1-nil away you have a good chance of repairing that score at home", he concluded
Read Other Articles In Article (Archive)