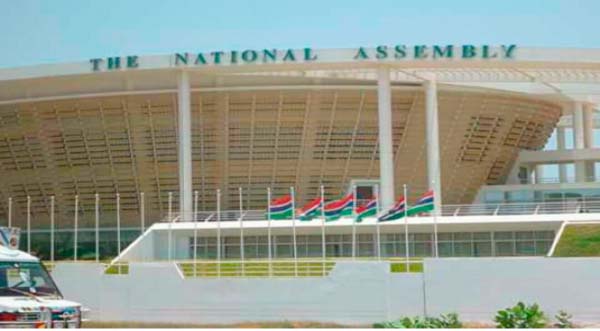 Lawmakers yesterday tabled before deputies their various need of their constituencies and suggested ways to fulfill them soonest.

During continuation of the adjournment debate on the selection on committees, the National Assembly Members for Banjul South, Hon. Ousman Sillah, said that in the legislative year 2017-2022 reforms are expected to be effected by the Assembly.
This, he said, is in response to the expectations of the people who voted them into office as well as in keeping with the manifesto of the Coalition 2016 which brought the present executive to power.
"We are expecting constitutional, legal and administrative reforms and even institutional reform, in addition to that I want this August Assembly in order for us to be of service to the nation and to give effects to section 112, we should consider making amendment to section 91D of the constitution because this will give lawmakers the confidence to speak their minds.
He also spoke on the deplorable state of the capital city Banjul, saying urgent needs of Banjul include good infrastructures and better sewage system, as the city is currently home to poor drainage system and awful sanitation facility, "especially the gutters and this call for concern".
He further added that people feel ashamed to say that they are from Banjul because of the bad condition of the city.
The National Assembly Member for Busumbala, Hon. Saikouba Jarju, in his words, said he agreed with the NAM for Banjul South on the issue of Banjul being the Capital city with a deplorable condition.
Hon: Jarju added that his constituency has "a very big problem" because there is a particular area left out by the former PPP and APRC regimes, saying nothing has been done concerning his constituency.
He said the road network in his constituency "is very poor", adding that many of the women in the area depend on gardening to make a living but there is no market for their products, which is very serious and calls for concern.
Permanent secretaries and ministries have to be present at the National Assembly so they will listen to the National Assembly Members from the various constituencies and know their concerns because, he said. "We cannot go to their offices and be knocking on their doors to beg for something that belongs to the people." He added.
The National Assembly Member for Bundungka Kunda, Hon. Bakary Njie, said the main problem in his constituency is lack of water. "And it is really a nightmare for the people of Bundungka Kunda to have water as they have been denied a very vital necessity hence something has to be done about the issue," he said.
Hon. Njie said they would sometimes pay water bills higher than people who get water regularly, "which is very unjust because we paying for that water we are not enjoying at all and when you go to lodge complaint to NAWEC they would tell you different story".
Other National Assembly Members shared similar problems and called for immediate actions from the relevant authorities.
The debate was adjourned till today at 10:00am at the National Assembly.
Read Other Articles In Article (Archive)