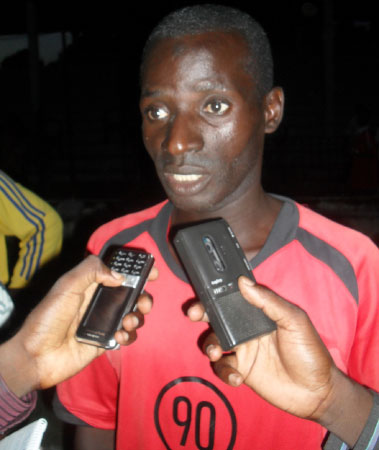 Lamin Jammeh, assistant coach of Interior FC, has said they will prepare for the FA Cup final against holders Gamtel FC, but they are going there to play and take anything good they would get.
Jammeh made these remarks recently after his side's 2-0 win over Seaview FC in the semifinal of the FA Cup competition.
"It is football, we cannot say that we are going to win the trophy," he said. "We played together in both the first and second division leagues but as at now we are going there to play and take anything we get."
He said his side has the toughest road to the final, looking at where they started from - eliminating Wallidan FC, the Gambia Armed Forces FC, the Gambia Ports Authority and Seaview FC, who are currently leading the second division league table.
"It would be more difficult in the final," he also said, adding: "Playing in the final is where football stops."
"Dugal", as he is widely called, added that when they were coming to the game against Seaview FC, he told his players they  were going to play as underdogs because Seaview have not conceded a defeat since the commencement of the league and also during the FA Cup and were currently leading the second division league table.
"I told the players to respect them and play under no pressure," he said, adding: "I told them to enjoy themselves on the pitch and anything we get out of the game we take it because this is sport and that was what the players did, which resulted into them scoring two goals.
"I told the players 'let us keep the ball and play as low as we can in the first half'," he went on, noting that the Serrekunda East field is somehow sloppy and that the wind was also against them.
Abdoulie Jatta, head coach of Seaview, said he was "embarrassed" because this was their first defeat since the start of the season as well as in the FA Cup competition.
"In football if you did not take your chances, you always lose," he said, adding that during the break he admonished his players for failing to take their chances.
"Interior FC had a single chance in the first half and scored it," he stated, adding that the same thing applied in the second period of the game.
He said they missed their skipper and central defender, Kemo Fatty, who travelled to Cyprus for trials.
"The performance of Seaview FC during the start of the FA Cup was very good but that of today was very poor," he stated, adding: "we will go back and prepare to concentrate on the second round of the league just as we did during the first round."
Read Other Articles In Article (Archive)