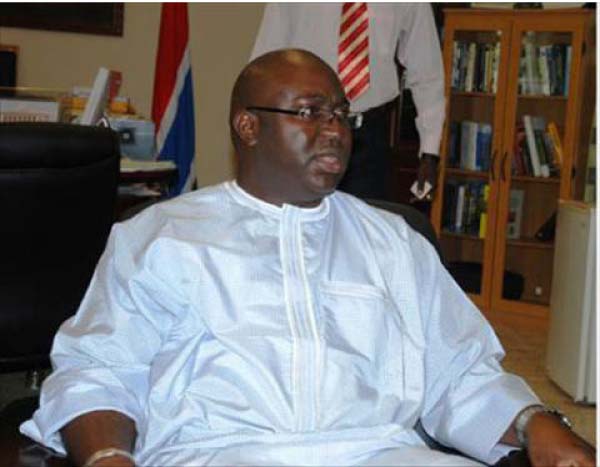 UTG class of 2017 there are 644 of you for this Fall/September 2013 Entry for your Class! 60 of you will be the entry class for our Medical School in October. This is the largest class ever! By any measure, this is a large 1st year Fall entry class for an emerging University! Without a doubt, we continue to evolve as a University to respond to the challenge and need for access to quality higher education to those that met the requirements!
I must commend our Admission Staff for the great job they continue to do in ensuring high admission standards are met and admitting the best class ever! You- Class of 2017 are indeed amongst the best selected from a large pool of applicants. You can be sure that you are here today through your own merits! We congratulate you and your families!
On behalf of the University's Chancellor & Founder – HE Sheikh Professor, Dr. Alhaji Yahya A.J.J. Jammeh, the members of the Governing Council, faculty and staff, and your fellow continuing students, both undergraduate and graduate, I warmly welcome you.
I welcome you all to a place called The University of The Gambia-UTG, where hope and history are forged into opportunities – opportunities for you and your families, and in 4 years Insha-Allah, opportunities for the communities where you will build your adult lives and for the many organizations (public, private and businesses you will start) and for our country and beyond.
You, the class of 2017, will move on to serve with expected excellence, positive attitude, discipline, competence and high ethical standards and values, as others before you are currently doing. You will not only serve locally, but globally as well, to make the World a better place for humanity. This is what we expect from all our graduates- nothing less!
Also, I want to recognize our new faculty and staff. We have several new faculty from theUSA, Bangladesh, UK, France, Sierra Leon, Senegal, etc. Kindly stand and be recognized as well.Scot Golden (USA), Saadi Sidiqi ( Bangladesh & USA); Sophie Gallop ( UK); Hanatu Kaba ( Sierra Leon); Dr Ndeye Maty Paye ( France 7 Senegal); etc. We also welcome the new Admin Staff – Ms. Penda Gaye; Ms. Ratri Buda Nugrahanti ( Indonesia); Mr. Abdoulie Sillah, etc.
We also want to recognize our Teaching/Graduate Assistants who are also UTG Alums.They have returned after completing successfully their Masters Degrees with commendable results from top Universities in Italy, Taiwan, UK, Ghana, etc. and are now full time regular members of our faculty as Instructors. This is continuing evidence for the quality education at the UTG.May you stand and be recognized as well.Jumu Wally; Hamidou Hawara; Salify Jobe; Gheran Senghore; Alieu Gibba; Tijan Bah; etc. We welcome you all back to our growing UTG community.
In this orientation, I will share with you more of the same thoughts I shared with your peers who were oriented recently. It is indeed a great pleasure to welcome you to the UTG and it is a beautiful sight and I must say, gives me a great joy seeing your bright faces ready to optimize your potentials and be more than you can ever imagine!
For most of you and is the case for most of our students, you are the 1st in your families to ever finish high school and be admitted to a University! An accomplishment that makes me the more proud of you! Please no, there is a lot of hope in you, do not let us down. Let no one discourage or derail you, let no obstacle, frustration or distraction come your path to achieve your goals, Enter UTG and work hard and enjoy the joy of learning always. Country has provided an affordable quality University for all of you, Enter UTG to be better for and come out to be a better, more productive citizen in the services of Country, Your respective Communities and Humanity!
This is a day of joy for all of us at the UTG – faculty, staff and our returning students. We anticipate with pleasure the excitement we will experience in your academic and intellectual growth as you pursue your various interests and degree programs here at the UTG and we look forward to becoming your teachers, colleagues and your mentors nurturing and encouraging your unique ideas. This is indeed a day of renewal for all of us at UTG and for you and your families that ignites our spirits and fuels our hope.
I want to underscore to all of you, UTG is the Greatest Hope, Pride and Asset of our Country. UTG is more than all our imagination, more than my humble self as your VC, faculty and staff and all UTG's actors and agents, in other words, all of us. Make no mistake, UTG will outlive all of us and will continue to grow to the path of greatness and continue to evolve as an excellent academic community, a hub of quality learning, research and service to our nation and humanity.
The UTG is the best thing that has happened to our country and continues to be the source for much needed quality human capital and leadership in all sectors, required to fuel the knowledge economy and put this country's economy on the path of growth and development, broadly improving the quality of lives!
We therefore, owe a huge debt of gratitude to our Chancellor and Founder, HE Sheikh Professor Dr. Alhaji Yahya A.J.J. Jammeh for his foresight and continued support to this UTG. He is our greatest advocate, champion and supporter. Once again, Let us all show our appreciation and thank him.
Also, we applaud you – parents, guardians and family, as you leave your children with us so they can write the next chapter in their lives and in the story of your family.
Let me say a word about your class – The Class of 2017, a word about UTG and what it means, a word about the great things we can do together, and finally, final thoughts for your families.
This class of 2017 is truly a unique class.You are coming in to The University of The Gambia at a time of huge optimism and excitement.You are coming to a stronger University with more opportunities and services to optimize your potential and prepare you for a brighter future with much success.
Every one of you stood out, and every one of you has great potential. You have been selected from many qualified applicants, so we expect you to consider yourselves lucky as we consider ourselves lucky to have you amongst our midst and part of our UTG family.Most of your colleagues and peers graduated with very good results, yet failed to make the minimum requirements to be admitted. You are the class of 644 students (Fall admits only), with 60 of you to be admitted in Medicine (October 2013) that have credited Mathematics and English!
Your class includes matured/Adult students this semester. Most of these matured/adult students never had the opportunity for a University Education and now UTG will brighten their futures.You are the class that has a father, mother, uncle, aunt, or sister amongst the matured student population of the UTG!We welcome them to UTG!
You are the class that is coming when our Science, Technology and Innovation Park at Faraba has started to evolve as a hub for knowledge pursuits and has opened her doors to our Science students and Researchers;the STI park is a host for a Center of Excellence for e-Learning in collaboration with the African Virtual University (AVU) and funded by the African Development Bank (ADB) is being implemented; an NIH funded Geo-Health center in collaboration with University of Iowa is hosted at the Park; The learning and technology infrastructure at the STI park continuous to grow and evolve. This and many more developments at the park continue to evolve and you will all be the beneficiaries! ThisSTI Park @ Faraba is the hub on the path to develop our much-needed Science human capacity and capability.
Further, through the continuing generosity and support of our Chancellor, we have established a UTG Farm at Faraba, farming about 20 hectares of groundnuts, which we expect all of you to participate and take ownership for!
Perhaps, our Chancellor is messaging you all to embark on serious farming! Can you imagine for a moment , the impact, all of you- 644 students owning your individual modest farm and doing what is expected! Better yet, can you just imagine for a moment all of our 4000 students here at UTG, each owning a modest farm! Yes, you can do it with your studies! Folks in the village do it all the time with their Daaras! WaaW! …. Ahhh… you are chuckling! But, hey…. For those of us from farming families from the villages, you know what am talking about! This is not unusual and the probability that you will be provided a modest farm of your own and also contributing to your Dad's and Mom's Farm periodically is very likely! So, it is not a wild imagination! It is just that, we continue to drift away from this tradition.In any case, it's just a thought…… and just may be, Our chancellor, in his wisdom, is messaging you all! Ummm …. Just a thought!
You are the class with peers in the first cohort pursuing a Masters Degree in Applied Mathematics with a concentration in Mathematical Modeling, which is progressing well with the support of our colleagues at The University of Gaston Berger, Saint Louis, Senegal.
You are the class that is coming when much-needed expansion and upgrade of our Faculty of Law is on track for completion in a month or two. This ultra modern 3 floor facilities will strengthen our efforts in improving the learning infrastructure and opportunity for our Law Students. This facility will be the home of our planned new Masters of Law (LLM) we are expecting to launch soon in collaboration with world-renowned partner universities.
Some good news to share with the incoming Faculty of Law students. Our Faculty of Law students are currently in South Africa Competing with student teams from top African University Law Faculty's in the Moot Court Competition hosted by the University of Pretoria. We just received an e-mail yesterday form their faculty coordinator that they came 3rd! What an achievement! We are very Proud of them and again, this attest to the quality education they are receiving at our Faculty of Law. You will have an opportunity to earn your place in our Mooting Teams that we continue to support with opportunities to travel the World to compete with Law students from World Class Universities. Our Mooting teams continue to excel and rank respectably amongst Law students from World Class Universities. Our Faculty of Law has evolved to be amongst the best Faculty's of Law in the sub-region and contributing to the much needed human capacity for our judiciary. We welcome you to our Faculty of Law!
You are the class that is coming when much-needed expansion and upgrade of facilities at our School of Medicine and Allied Health Sciences is on track to provide 5 floors of ultra modern learning space and laboratory for our Medical and Allied Health Sciences.
You are the class that is coming when the Taiwanese Government through her Embassy recently donated two 60-seater buses to ease transportation to our campuses and also an additional ultra modern bus(es) from our Chancellor, His Excellency, the President, Sheikh, Professor, Alhagi, Dr., Yahya A.J.J Jammeh are expected to ease transportation to and from our campuses including to the STI Park at Faraba. These are just some of the few exciting opportunities awaiting you as we embark and start this new academic year and semester and as we welcome you all as part of our growing community.
You are the class that is coming when our Center for Global and African Languages and Culture has opened her doors. You are the class that is entering when a Basic Chinese Language Course will continue to be taught at UTG! Last year we introduced Spanish! You are the class that will be required to attain French Language Competency as a graduation requirement regardless of major. Henceforth, your class will be required to take French Language if not every semester, most of the semesters you are at UTG to ensure that by graduation, you will attain a level of competency to enhance your competitiveness and professional mobility across the sub-region.
You are the class that will witness further improvement in our IT infrastructure and enhancing campus access to computer labs in our Brikama, Kanifing, Faraba and our Campus in Banjul at the Medical School. The 1st Apple Imac Lab has been launched at the STI Park.We are very much appreciative of the recently donated Computers to the UTG by our Chancellor- These are all for your use and to enhance your productivity as students; and many more. Yes, indeed you are a unique class and we have great hope in your success here at UTG and beyond!
Thus, use your time here optimally to maximize your potential beyond your imagination. As hard as it may be to imagine, in just 45 months, most of you will be UTG alumni.
To be continued.
Read Other Articles In Article (Archive)