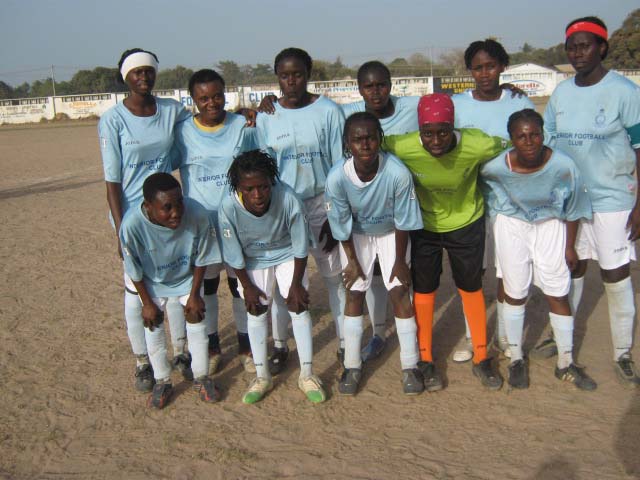 Interior are getting closer to yet another historic moment after adding another vital 3 points to their disposal, despite the current poor display in the ongoing GFA division one female league championship as they registered a 7-0 victory over weak Kinteh United, last Friday, with only one game left to wrap-up another scintillating and exciting moment of female football in the country.
It may not be confirmed yet, but many football enthusiastic have already given their opinions that Interior are already the champions, taking into consideration the amount of points they have registered which saw them increased their lead on 22 points- three (3) points above the second place Company Ten, who collected 19 points following an entertaining 3-0 win over relegation thrown Makasutu last Sunday.
They are also chasing their first league title in many years. Red Scorpions are in third place on 17 points and they are out of the race for the title, even if they snatch a win in their last game against relegation threaten Kinteh's United on July 7th. Company Ten will be level on points with Interior should they overtake them in their last game in what could be described as the toughest game in the final week of the female league when the two sides meet on  Saturday 11th July 2009.
Abuko United are still maintaining the fourth place on 14 points, despite their hard fought goalless draw against Red Scorpion last Saturday.
Kinteh United and fellow relegation threatened Makasutu will know their fate after the week ten fixtures against Abuko United and Red Scorpion, respectively. But a lose for both of them will be good news for Kinteh's in one hand, because it will see their escape relegation to the second division thanks to their numerical goal advantages over Makasutu but nothing is certain yet until everything is over.
Meanwhile, Armed Forces is still leading the female division two league table on 18 points. They will certainly be crowned as the division two champions. Jam city who occupied the second spot lost to the leaders 4-0 on Saturday, which saw Armed Forces getting nearer to the 5- club championship title.
Jam City had had a superb start to the league, but seems to lose their winning spirit in the latter stage of the champion which left them on 11 points and are out of the title race.
City girls, future Bi who collected 7 and 9 points, respectively are absolutely out of the race for the title while it looks certain that Jeshwang United will not be playing a second division football next season. They are struggling at the bottom of the table on 3 points with a game left to complete the second division league.
Read Other Articles In Article (Archive)