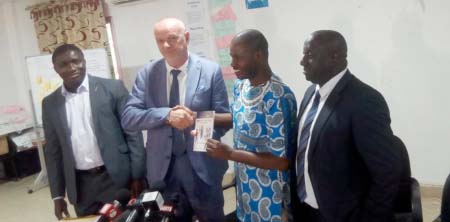 The European Union ambassador to The Gambia Atila Lajos has stated that media information is an effective tool for citizens to participate in decisions on key issues related to public safety and security or to challenge them if necessary.

He added that a strong media is not only beneficial for the public but also for security institutions themselves. Engaging constructively with the media can add to their own legitimacy and that of security and justice providers.
Mr. Lajos was speaking during the handing over ceremony of the media guide on Security Sector Reform to Gambia Press Union (GPU) at the Action Aid office in Kanifing on Tuesday.
He said in the context of the security sector, the role of the media is particularly important. "We firmly believe that transparency in general is needed to create trust and it's also needed to dialogue," he added.
EU ambassador mentioned that transparency in the security sector reform is fundamentally important by nature, security sector institutions have the tendency to perceive publicity, transparency and democratic control mechanism as an intrusion in their decision making and effectiveness. While some information may not be disclosed legitimately for reasons of national security, he said, it is often used as justification for a general lack of transparency and accessibility to democratic control.
He added that the new course undertaken by the Gambia should be underpinned by safeguarding the media's independence and pluralism through the reform of repressive laws and policies that affected the media during the previous regime. "The improvement in government media relations represents an opportunity for the media to contribute directly to the security sector reform process. For this process to be successful, the media's participation in security sector discourse should be meaningful, constructive and long-term."
According to him, the aim of DCAF's support to the Gambia media is to enable them to actively and meaningfully participate in the security sector reform process. This was done through capacity building trainings and development of a guide on Security Sector Reform (SSR) for media professionals to foster the development of in-depth knowledge and understanding of the role of the media in security sector governance and democratic overnight.
He said if the media takes part in this process the reform will become more transparent, participatory and democratic.
Pansaw Nyassi, the interim country head DCAF, said the training guide aims to provide media professionals and civil society organisations with knowledge and basic skills in security sector reform and governance to enable them to play the crucial role they have in the transitional justice process effectively.
Mustapha Mbye, the chairman of the ethics committee at the Gambia press union commended the European Union and DCAF for the initiative and gave assurance that the training guide would be put into the good use.
Read Other Articles In Article (Archive)