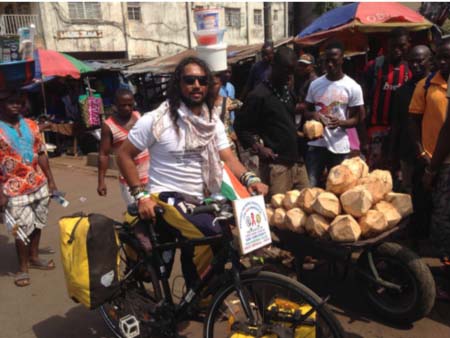 Issue Tuesday 22 March 2016
Somen Debnath, an Indian national, is cycling the world and spreading HIV/AIDS awareness, as well as the Indian culture.
The Gambia was the 120th country he visited on his "around the World Bicycle Tour Programme and Seminars on Indian culture and raising awareness on HIV/AIDS."
Speaking to The Point on Friday, Somen Debnath said his cycling tour around the world started on May 2004 after acquiring his Bachelors of Science degree in Zoology at the University of Calcutta.
He had also obtained the Visarad degree in fine arts at the University of Sarbabhartiya, Calcutta, West Bengal, India.
So far, he had travelled through 120 countries including The Gambia, and completed 129,300 kilometers on his bike trip.
Mr Debnath said from 2006 to 2009, he travelled to all the 22 countries in Asia and then in 2009 to 2012 to all of Europe in 45 countries.
"In 2012, I entered Africa from Morocco and in 2012 to 2015, I travelled to most African countries and the Middle East; then from Guinea Bissau I came to The Gambia."
"I arrived in The Gambia, and I will stay for five to seven days and I would like to visit different schools, colleges and universities for HIV/AIDS awareness, and also convey the message of peace and humanity and brotherhood with Indian culture."
He said he is also going about teaching the Indian culture and also learning about different cultures.
"When I was 14 years old, I read a newspaper about one person who died of HIV/AIDS and he was not far from my village. So I became determined to know about HIV/AIDS, and decided that when I learn about HIV/AIDS I would convey the message to people; and that was my first intention when I was 14 years old."
When he was 15 years, he was doing awareness campaigns in his locality and society, he said, adding that when he was 16 to 20 years, he was still doing the awareness creation.
When he was 20 years old, he started the journey from India, he said: "I made my plan that I will travel in 191 countries from 2004 to 2020, and I will travel almost 200,000 kilometers in the world covering 20 million people."
He said that during his tour, 28 times he had to take a ship and 22 times he had to take a flight, which connected land-to-land borders.
He said he had learned different languages as he entered different countries, so as to get close to people and to understand them.
"The whole world is my university, and all the people are my teachers; so every single moment I am learning something new from each and every person, and I respect that."
He said that during his journey he has met many presidents and prime ministers, adding that it was an honour meeting with the president of a country.
"I was captured by Taliban for 24 days in Afghanistan, 6 times robbed in central Asia, 8 times beaten by skinheads, living with wild animals such as rhinos, elephants, cheetahs, and pythons."
He said he lived with the most ancient Jarawa tribe in the Andaman and Nicobar Islands, and it was really challenging but again people supported him.
"Life is a great lesson; so we are learning from this lesson to make our life better and that is the way we can make a change, and I believe each and every person has a responsibility to make his or her life better," the Indian cyclist said.
He said the Indian community in The Gambia is supporting him, and the Indian consul is also supporting and appreciating his programme.
"I will continue to Dakar and from there to Mauritania - Western Sahara, then to Brazil and then to other countries; so the tour will finish 27 May 2020," he disclosed.
He said when he gets back home in 2020, they are going to build a global village and he would commit to the world 60 per cent of whatever he would get and that the global village would be handed over to the world in 2025.
After the adventure, he would write a book that would be about 16 years around the world, and it would be in volumes, from 2004 to 2012 and then 2012 to 2020, which would be five parts each. 
Read Other Articles In Article (Archive)