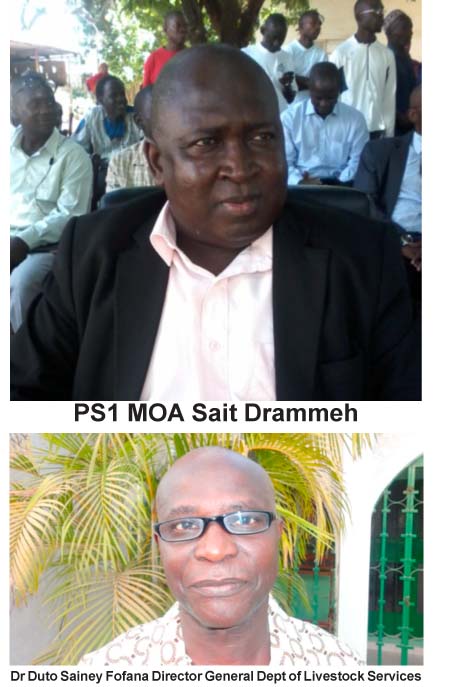 The Gambia government and the Food and Agriculture Organisation (FAO) Thursday launched the Technical Cooperation Project (TCP) /GAM/3503; Title "Assistanceto EnhanceCommercialPoultryProduction for Food Security".
The TCP worth USD489,330 or close to D20 million was signed between the Ministry of Agriculture and FAO on 30 November 2015.
In his launching statement, Dr. Duto Sainey Fofana, Director General the Department of Livestock Services, said TCP was developed when the government of The Gambia requested for assistance to vulnerable farmers who were challenged in accessing basic inputs for poultry production.
He said some of these challenges included the lack of starting capital to venture into poultry production, high incidence of poultry diseases, as well as inadequate technologies to assist small-scale farmers in poultry production.
The Food and Agriculture Organisation  of the United Nations immediately responded  by providing technical assistance for the execution of a Technical Cooperation Project, TCP, he stated.
The overall objective of the project is to improve food and nutrition security of the poor and vulnerable women, youths and households.
"This will be possible through delivery of efficient husbandry and veterinary services, and developing the capacity of field agents of the department of Livestock Services and farmers on modern poultry production techniques."
This is an important pre-requisite in the development of sustained public and private service delivery systems to support all the actors in the poultry value chain, Mr Fofana stated.
It was envisaged that the targeted 19 broiler and 5 layer farms owned by the poor and vulnerable households would produce an additional 65 metric tonnes of poultry meat and 605,000 eggs in the first production cycle, he added.
This extra production would contribute towards increased household incomes and improved nutrition and health, due to increase consumption of animal protein.
Overall, this would result in improved livelihood status of farmers, reduced food insecurity and increase in saving on foreign currency for other national development, he went on.
"These efforts were highly welcome and appreciated by our farmers whose livelihood greatly depends on the livestock."
The FAO and the Gambia government have come to the rescue by jointly developing a TCP called TCP/GAM/350 for Assistance to Enhance Commercial Poultry Production for Food Security, he said.
Dr Fofana commended the effort of the FAO in coordinating and supervising, as well as providing the much-needed resources for the successful implementation of the TCP. 
According to him, sensitisation and awareness campaigns have been conducted and beneficiaries from small-holder farmers have already been identified.
Procurement of birds, equipment and other logistics is ongoing, according to DG Fofana.
He expressed appreciation and gratitude to the government of The Gambia under the leadership of President Yahya Jammeh and FAO for providing the needed resources to conduct the past, present and future activities in livestock production and health.
Also speaking was Sait Drammeh, permanent secretary 1 at the Ministry of Agriculture, who expressed gratitude to the FAO for the timely and positive response to their request for support, in complementing the ongoing efforts of the government to become self-sufficient in food through the clarion call, "grow what you" and "eat what you grow."
PS Drammeh further said livestock production, especially poultry has been shown to provide a practical and effective first step in alleviating rural poverty.
"Ever since, poultry production has been an integral part of small rural households for centuries, and will continue to be for the foreseeable future."
He said the traditional production system still remains predominant, producing far less short of national demand for chicken meat and eggs, leading to huge importation of poultry product annually.
He disclosed that more than 9,000 metric tonnes of chicken meat was imported in 2014 alone and, as a result, the ministry of Agriculture is committed to increase domestic production of poultry and poultry products in the country
He said the TCP being launched is aimed at providing these needed inputs to farmers to serve as a catalyst in promoting commercial poultry production as a practical and viable option for poverty alleviation.
He said under the TCP, the key activity to be conducted is the establishment of 19 broilers and 5 layers of 24 commercial poultry enterprises with beneficiaries supported with capital building and production inputs.
The target beneficiaries who have been carefully sensitised and selected would be trained in production techniques before the distribution of inputs.
He said the ministry through the department of Livestock Services had put in place appropriate farmer advisory and training services, as important pre-requisites for sustainability and expansion.
Read Other Articles In Article (Archive)