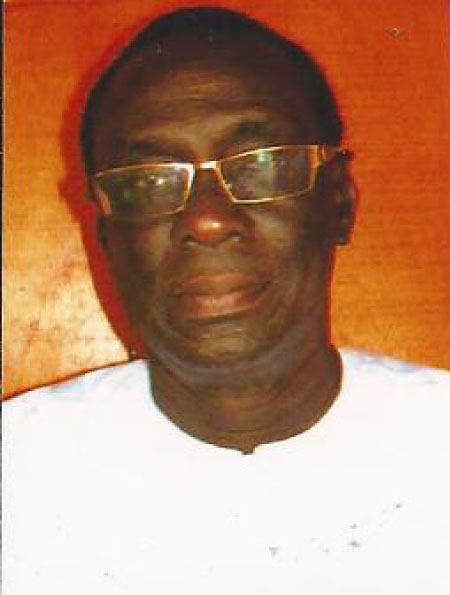 As a man who saw Adama Hala Samba as a player and his emergence as an elite coach in Gambian football in the seventies and eighties, I see it as an honour and privilege to join one of Gambia's finest (FIFA) football referees, my friend Alhagie Gailoub Faye, in supporting and endorsing without any reservation the candidature of Adama Hala Samba for the Gambian FA presidency.
As a sports journalist with the Gambia News Bulletin and a Radio Gambia football commentator at the time, I covered the man and saw his passion and commitment for the game. I watched him play for his own Ingram Street team, Adonis and also his brief stint with the Gambia Ports Authority Football team.
As a centre forward, there was not a better one because of the skills he had coupled with his football intellect and respect for the game.
Hala Samba would later transfer those same tenets to future stars like James Freeman, Sheikh Ndure, Kemo Fatajo and many more.
I am sure my good friend, the 'Walking Gambian Sports Encyclopedia', Pap Saine, will second me on this because he was the dean and was there every single day.
As a coach, I had an opportunity to sit down with him on several occasions and I cannot count the many times he gave me an exclusive interview.
Whether it was a victory or a defeat he was readily available to the press, and to date, I can remember his popular quote, "Tijan, second best is not an option for Wallidan." Well that's exactly what Gambian football needs.
Adama Hala Samba is an accomplished football executive who has done a lot for the development of the game.
He possesses the qualities of a great leader and I do believe deep down in my heart that with him at the steering of Gambian football, change will have finally arrived, change for the advancement of Gambian football with his no nonsense attitude is what the game needs.
Hala is a firm believer in opportunity and giving him the responsibility to steer the affairs of the FA, Gambian football will return to its glory days when our national team and championship clubs were the idols of spectators in the sub-region.
With Hala Samba's leadership, indeed we can live another generation of new Biri's, Bai Malleh Wadda's, Tony Joiner's, Lamin Owens's, Commy Owens's, Sang Ndong's, Lie Ndure's, Babou Saho's, Bill Badjie's, Edakar's, Dodou Saine's, Star Jallow's, Charlie Boy's, Essa Faye's, Father Laos's, Ema Mbye's, Amat Joof's, Aziz Corr's, Peter Prom's, Belai Prom's, Paul Ogoo's, Pa Mu Ndow's, EK's, Sherrif Jobe's, Boy Corr's and many more that are not mentioned here.
Finally if the Gambian football fraternity hands over the reigns of Gambian football to Hala Samba, they would have selected a bold leader, a truthful person who will rather die than compromise his candor, that I can say unequivocally because I dealt with the man upfront and saw his enormous contribution to Gambian football.
So to those who will make the ultimate decision of selecting a new 'supremo' for the game we all so love, I say, Adama Hala is the right man for the job.
Read Other Articles In Article (Archive)