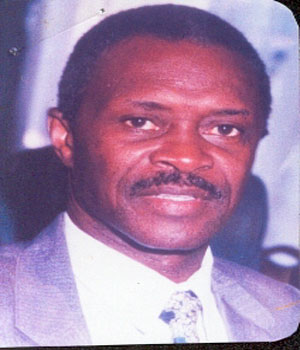 George Gomez was among eight recipients of the Sports Journalists Association of The Gambia's award to people who have invaluably contributed to Gambian sport. 
He has certificates in First and Second Level Sports Administration, diploma in Sports Management, FIFA Futuro Certificate in Sports Administration and is a Lecturer in Sports Administration courses.
SPORTS APPOINTMENTS
Executive Committee Member – Gambia Football Association: 1978 – 1982, while Alhaji Dr Samba was president of the GFA at the time.
Interim Coach of the National Football Team: 1978 – 1979 with the late Kebba Njie.
Assistant Secretary General of the GFA: 1979 – 1981.
President Gambia Football Association: 1990 – 1992
Chairman of the First Financing of Sports Seminar at the Atlantic Hotel: 1992.
Executive Secretary of the Gambia National Olympic & Sports Committee: 1991 – 2004 (The first Gambian to occupy this post).
Author of the Bid Document for The Gambia to host the U17 CAF Youth Tournament in The Gambia in 1995.
Founder member, and vice president, of the Gambia Veterans Football Association: 1998 - 2004
Chairman of the Accreditation Sub-Committee Zone II Football Tournament in 2003 and the U17 African Championship in 2005
Executive Secretary ZANOCA (8 countries are members of this Organization):1993 – 2010. Reappointed in April 2010 for another term of 4 years (Mr Gomez was the first Gambian to be appointed to this post and the longest serving officer in the post so far).
Executive Director of the GNOC: 2004 – 2010
Secretary GNOC National Awards Committee – 1997 – 2009
Chef de Mission – Olympic Games, Atlanta – 1996
Chef de Mission – Commonwealth Games, Malaysia – 1998
Chef de Mission – Olympic Games, Sydney 2000
Chef de Mission – Commonwealth Games, Manchester 2002
Chef de Mission – Olympic Games, Athens – 2004
Chef de Mission – Commonwealth Games, Melbourne 2006
Chef de Mission – Olympic Games, Beijing 2008
Chairman of Interim Consultative Committee to set up the National Sports Council: 1998 – 2000
Member of the Independence Stadium Board for 2 terms from 2000 to 2008 and Chairman of the Marketing Sub-Committee of the Stadium Board.
Member of the Interim Sports Council: 2009/2010
Chairman Scholar Athlete for Change (SAC): 2009

AWARDS
IOC/GNOSC Award for Sports for All: 1998
Hall of Fame Awardee: 1999
Most Outstanding Sports Personality Award: 2002.
Singles Tennis Champion, Tooting Bec Hospital in London:  1968- 1972.
Visit www.sportsjournalists.gm for more details about the award
Read Other Articles In Article (Archive)