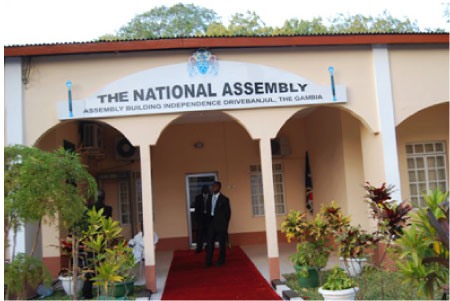 The deputies at the National Assembly yesterday began their 3rd sitting in the legislative year after a month-long break known as the Statutory Annual Recess of Parliament from 1 to 31 August 2012, which also coincided with the Ramadan break.
At yesterday's sitting, the speaker of the National Assembly, Hon. Abdoulie Bojang, informed deputies that he led the National Assembly delegation from The Gambia to the 3rd Conference of the Speakers of the National Parliaments of Africa on 30 and 31 August 2012 in Johannesburg, South Africa, which was preceded on 28 and 29 by the meeting of clerks.
Meanwhile, at yesterday's sitting, two reports were laid before the deputies, the first was the report on the Public Financial Accountability and Oversights – Principles and Practice, held in Lome, Togo, from 19 to 21 June 2012. The report was laid by Hon. Lamin K. Jammeh, NAM for Illiasa constituency.
The second report was on West African Association of Public Accounts Committee (WAAPAC) conferences and Annual General Meeting (AGM), held in Monrovia, Liberia, from 29April to 4 May 2012 and laid by Hon. Fabakary Tombomg Jatta of Serekunda East.
During the sitting at the House on Monday, the Speaker communicated to members the forthcoming PAC/PEC pre-session retreat to be held in partnership with PRO-PAG from 19 to 23 September at Sindola in Kanilai.
Speaker Bojang also informed members of the proposed visit by a delegation from the Public Account Committee of the National Assembly of South Africa.
"They shall be here on a study tour, to see and understudy our best practices and why PAC/PEC is so effective in The Gambia," he remarked.
The sitting continues today.
Read Other Articles In Article (Archive)