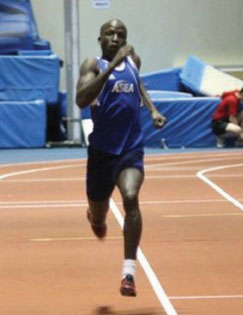 Gambian International athlete sensation, Momodou Lamin Kujabi, remains on course to win this year's Canadian junior athletics championship medal.
The 18-year-old Gambian track-runner, who decided to stay, put in Canada after taking part in the World Junior Athletics Championship two years ago, continued to make the best use of his Canada abscond.
Strings of world-class athletics championship performances saw the young man make remarkable progress in various championships to date.
Kujabi has once again added another top medal to his name after winning last weekend's provincial athletics championship in Edmonton.
That win has paved the way for the young athlete to participate in this year's Canadian junior athletics championship due to take centre-stage this weekend.
Meeting the qualification standard for the final showdown was something Kujabi is delightful of, saying, "it was a remarkable moment for him and his colleagues.
He confirmed his qualification from the first series after emerging as first place occupant with a time of 48.09 sec and wasted no time in contacting Pointsport for an interview on the achievement.
In a telephone chat with this reporter from his base in Canada, the 200 and 400m runner who is continuing his athletics career in Canada said he feel positive ahead of the big event, which came in the wake of his impressive qualification from the first series.
"I feel very positive and confident of winning the gold medal in the Canadian athletics championship taking place in another Canadian city called Winnipeg this weekend," he said.
"I am feeling confident because what I did during the qualification is making me feel extremely hopeful of successful outings,"
Kujabi, the former Gambia national athletics association's hit-man who left for Canada in 2010, said: "Saturday was our provincial championship which was held at Edmonton Park of Sherwood. The event is dubbed 'Sherwood park track classic.
"I participated in the 400 and 200m races finishing 1st 1n the 400m with a gold medal and a time of 48.09 sec. Even though my performance was eclipsed by one of my fellow athletes in the 200m event, I still managed to sit second with a time of 22.92sec.
"I am now heading to the Canadian Junior National championship to be held in Winnipeg another city in Canada on a high."
With many international athletics medals under his belt, Kujabi is one of the best known athletes in The Gambia.
Read Other Articles In Article (Archive)