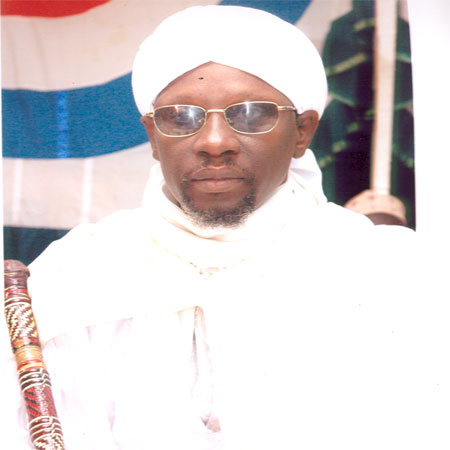 Alhagie Abdou A. Faal, Chairman of Banjul Muslim Elders Committee, on Friday, May 9th, informed hundreds of worshippers during Friday prayers at the Independence Drive mosque about the appointment of Alhagie Muntaha Faye as Chief Imam of the mosque, the oldest mosque in the city.
According to informed sources, Imam Faye's appointment came into effect on 4th May 2008 following a meeting of Banjul Muslim Elders Committee. Imam Faye replaces Alhagie Macoumba Jaye, who reportedly abdicated on health grounds.
The appointment of Imam Faye, 52, as Chief Imam, was said to have been unanimously agreed by the committee. He first became Imam at the Fayen mosque of Dobson street in Banjul in 1985. From 1995 to May 3rd 2008, he served as First Deputy Imam of the Independence Drive mosque.
When contacted by this paper, Imam Faye confirmed the appointment and said in a subsequent exclusive interview: "I was very happy to be appointed to such an Islamic post. I thank Allah and the Banjul Muslim Elders for the high regard and trust they have on me to appoint me as Chief Imam of the Independence Drive mosque."
Outlining his objectives as holder of the position, Imam Faye stated: "It is a big challenge as a young man to have this responsibility. My first mission will be to unite all Muslims where ever they are in The Gambia, and try to develop the Islamic management committee of the mosque."
Imam Faye prayed for peace and unity among all Gambians and foreigners residing in the country.
He will be assisted in his duties by two deputies namely Alhagie Masamba Jagne and Alhagie Dawda Jallow.
Analysts believe that Imam Faye, who came from a big Muslim in family Banjul, is worthy of the appointment on account of his love for and devotion to Islam, his honesty and Public Relations credentials
He delivered his first sermon as Chief Imam during the last Friday congregational prayers, which hundreds of people attended. Chief Imam Faye impressed many with his eloquent Arabic intonation, to the extent that after the prayers, many worshippers embraced him while others shook hands and took photographs with him in an indication of their happiness with his appointment and powers of oratory.
Read Other Articles In Article (Archive)