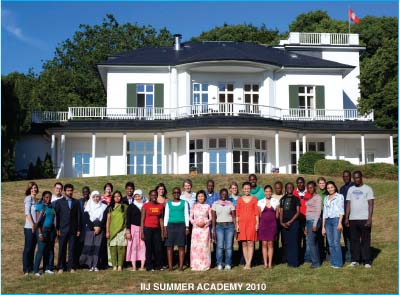 The month-long 2010 Summer Academy in Journalism offered by the International Institute for Journalism (IIJ) of InWEnt, Capacity Building International last Friday came to an end in Berlin, the capital of Germany.
This year's Summer Academy dubbed "Freedom and Responsibility in the Media" brought together young and talented upcoming journalists from 17 countries, mostly in Africa and Asia.
The Summer Academy aims at promoting media freedom and journalistic ethics by empowering young, up-and-coming journalists to make ethical decisions in their daily working routines, as well as under difficult circumstances.
The programme was a unique opportunity to broaden the knowledge of journalists on the key topic of press freedom, discuss professional ethical standards and reflect on their reasons of being a journalist. It covered both practical experience and profound insights into the political and ethical framework that guides the practical journalistic work.
As expected, the training was conducted by media experts and prominent senior journalists with a lot of experience in all aspects of newspaper and online work. Most of them work, or have worked, in leading newspapers, news agencies or online newsrooms in Germany and abroad.
In fact, they are acquainted with the media in developing and transitional countries.
During the course of the programme, participants were exposed to different ways of journalism practice, which if properly put into action can better their outputs in their respective countries.
The Summer Academy combined lectures, group work, discussions and practical exercises.
Topics covered included the concept of media systems and media freedom in different cultures; responsibility and values in journalism; case studies of journalism ethics; new trends in the media industry; the role of a free press in the process of economic and social development; investigative journalism; reporting migration; gender; and dealing with the past.
Meanwhile, this year's participants also had the opportunity to deal with subjects, such as media and conflict; and international reporting, among others.
Newsrooms and relevant non-profit organisations both in Hamburg and Berlin were also visited.
Addressing the participants at the certification ceremony held at the headquarters of InWent, located in the heart of Berlin, the InWent Senior Project Manager and Course Director, Madam Christiane Kasgen congratulated the group for their achievement.
She encouraged them to put into practice all what they have learnt during the summer academy.
"We know it was not easy for you, especially considering your busy programmes and time consciousness in Germany, but it is good that you have all completed successfully," she said.
The course moderator Friederike Boge hailed the group for the high level of participation. She expressed optimism that with what they have acquired in Germany, if only put into practice, can make them become even more responsible journalists thus having the competence of working in top positions in the media.
The programme was sponsored by the Federal Ministry of Economic Cooperation and Development on behalf of the Government of the Federal Republic of Germany.
Read Other Articles In Article (Archive)