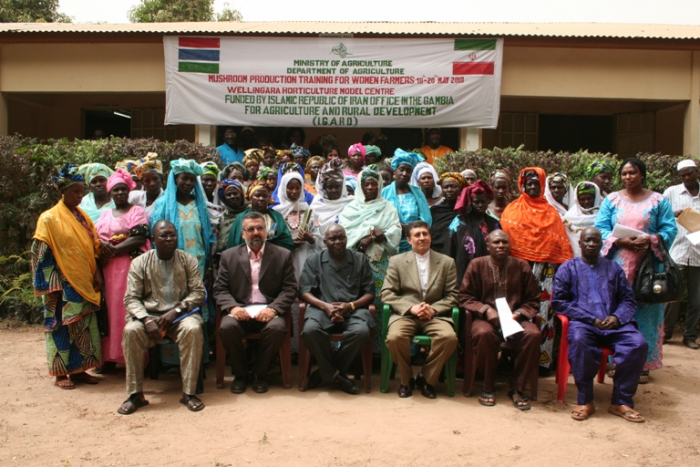 At least 40 women farmers drawn from four villages within the Kombo North yesterday completed a three-day training on mushroom production for 40 women farmers, at the Wellingara Horticulture Model Centre.
Coordinated by the Iran office in The Gambia for Agriculture and Rural Development (IGARD), in collaboration with the Ministry of Agriculture, the training covered, among others, mushroom biology, edible and non-edible, mushroom life cycle, importance of mushroom and market value, spawn preparation, substrate preparation, and pasteurisation of substrate.
In his closing remarks, Mr. Ali Asghar Kalbasi Esfahani, the Managing Director of IGARD, said the training is part of the third capacity building programme after the senior management's training workshop.
According to him, the training was part of the three programmes of mushroom development project, which IGARD is sponsoring, namely the rehabilitation of five green houses for mushroom production at Banjulinding, Bakau, Sukuta, Brufut, and Bakau for practical training of mushroom production.
He expressed hope that the training will be useful in strengthening the capacity of women farmers on improving the technology of mushroom production in The Gambia.
"My office and the Iranian Ambassador to The Gambia, Saeid Zare appreciated the full encouragement from the Horticulture and Technical Services and the Department of Agriculture and all their partners in making the three-day mushroom production training a success," he added.
For his part, Saeid Zare, Iranian Ambassador to The Gambia underscored the importance of the training, noting that mushroom is very nutritious, and rich in protein.
Commenting on Iran /The Gambia relationships, Ambassador Zare said there are many fields of cooperation between the two nations, including political and international affairs, economy and trade, agriculture and fisheries.
"My government is planning to implement some agricultural projects in The Gambia. One of our famous and well-equipped technical company is about to come to The Gambia for implementing these projects," he said, adding that preliminary steps have been taken and the job will start soon.
"In educational subject, I think in the future we will witness close cooperation between Iranian universities with the one in The Gambia. There are many experienced and well-educated professors in Iran than they can exchange their experience with those in The Gambia University," Ambassador Zare concluded.
Read Other Articles In Article (Archive)