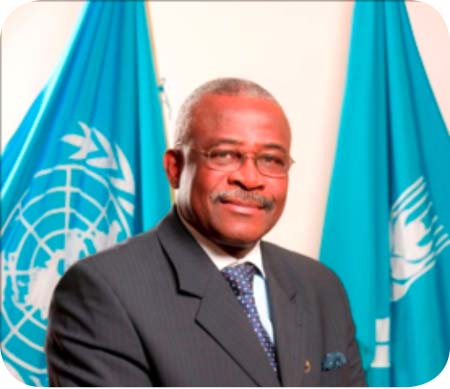 The President of IFAD, Dr. Kanayo Nwanze, has said given the commitment of Gambian farmers and President Yahya Jammeh's support for women, IFAD is ready to invest more in rural women and youths to boost their agricultural productivity and help overcome poverty in the country.
He also told farmers that the Vision 2016 initiative to end rice importation in The Gambia is ambitious, but with the political will and leadership spearheading the agenda it would be attained.
Dr Nwanze during a field visit to Pakalinding community rice-field spoke to members of the village farmers association.
The IFAD official re-assured Gambian farmers of his institution's readiness to provide the needed support to ensure food self-sufficiency in the country by 2016.
He reiterated IFAD's focus on supporting smallholder rural women farmers and the youths, and to empower them.
Dr. Nwanze announced that the ongoing NEMA project funded by IFAD was designed to reduce poverty and improve food security in the participating communities.
It was revealed, during Dr. Nwanze's field visit, that IFAD interventions in the country include the provision of tidal water access ways under the PIWAMP project for 2060 farmers.
They have benefited from the development of 142 hectares out of the potential area of 175.3 hectares (including 840 meters of causeway), and the construction of four bridges (of length - 42m, 20m, 15m and 9m), as well as the provision of seeds and the training of farmers in various areas.
The impact of the intervention has also been an increase in productivity, enhanced household access to 142 ha of fertile rice fields, improved household food security (from 3 months to 7 months), and a marked increase in yields to 2,322kg/ha above the national average of 1,500kg/ha.
Also registered was a reduction in the number of farmers affected by pneumonia, reduced risks in crossing to the much-needed fertile rice-fields and enhanced transportation of farm inputs and produce.
Bakoto Sanyang, female president of the Pakalinding village farmers association, spoke about their challenges, but added that with the intervention of NEMA and IFADthey were able to increase rice production, and to increase the hectareage of rice fields, among others.
Read Other Articles In Article (Archive)