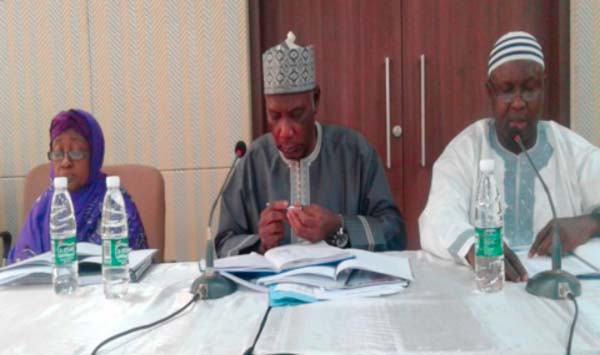 The joint session of the Public Accounts and Public Enterprises committees (PAC/PEC) of the National Assembly yesterday adopted the annual activity report and audited financial statement of the Independent Electoral Commission (IEC).
In his contribution, Hon. Samba Jallow, National Assembly Member for Niamina Dankunku, and the Minority Leader, thanked the new IEC chairman for working hard to fulfill his mandate.
However, he told the new IEC chairman that he has a lot to do because "our elections are already marred by violence."
He also asked whether IEC did not have legal advice because they went through a series of legal problems, citing the bi-election in Bwiam, saying there was a "legal error" when they announced it.
He said this was the time the National Assembly amended the Local Government Act, because what was happening to a National Assembly Member was not captured in the Local Government Act, and that all these are legal errors.
Hon. Jallow further added that for the bi-election in Lower Saloum, he went to collect the nomination form at Janjanbureh, and paid D500 at the IEC office on the same day.
The other issue was about fairness and transparency, for which he commended the IEC for transparency.
On free and fair election, Hon. Jallow said campaigning in The Gambia is 11 or 14 days
"We have seen that in 2011 it was a 14-day campaign period for the presidential election, and this year we have received the calendar and it is 14 days," he said, adding: "This is too small to travel from Koina to Kartong."
Responding to comments and questions directed at the IEC, chairman Alieu Momar Njai said that both bi-elections were done in 2015, so it should be discussed in their next report to PAC/PEC.
On the issue of violence, the IEC chairman said it was "unfortunate", which was why they recently had the inter-party consultative meeting where all the party leaders were present to look at issues.
"That is one of the mechanisms that would resolve most of this violence," he said, adding that it was the people and not the IEC to be blamed.
He said the supplementary voters' card registration was advertised and each individual has the right to go to the IEC and find out, in case they did not know about it.
Read Other Articles In Article (Archive)