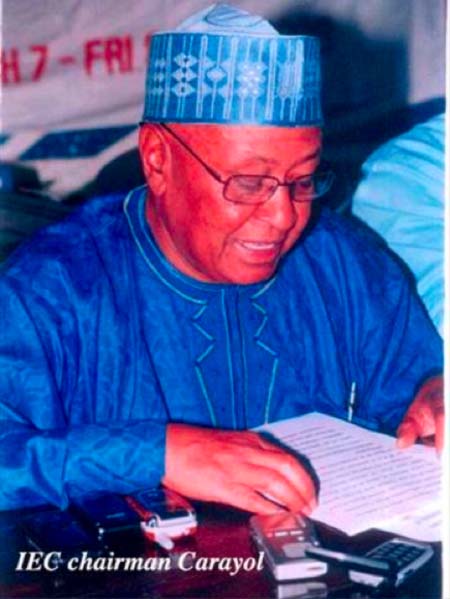 Alhaji Mustapha L. Carayol Monday informed the joint session of the Public Accounts Committee and Public Enterprises Committee (PAC/PEC) of the National Assembly that over the year all the seven IEC Regional Offices embarked on an extensive voter education exercise across wards and villages in their respective jurisdictions.
Ten voter education teams comprising three officials and one driver were deployed all over the country, he said, adding that they embarked on face-to-face meetings and sensitization activities at the grassroots.
Marketplaces or weekly markets (lumos), community vantage points (bantabas) were mainly used as venues, and loud hailers were used across villages and towns, he stated.
The IEC chairman said the IEC Database Centre remains the nerve center of the commission, and is headed by a Database Supervisor and supported by three IT assistants.
During the period under review, the Database also printed the register for the various elections held, he told deputies, adding that the unit maintained and updated the commission's website.
It also gave technical advice on the procurement of IT-related materials and equipment and advised on their use, he added.
The IEC chairman disclosed that there is ongoing collaboration between PURA and the IEC, on the verification of SIM card registration by GSM subscribers who use voter cards.
Mr Carayol further informed Assembly members that the strategic direction of the IEC aims to provide a roadmap for the manner in which it conducts its business in the next five years.
As opposed to its current emphasis or focus on implementing its mandate as per the current legal framework, it has from experience over the past years realised that it must develop a more proactive and adaptive attitude to enable the growing needs of its stakeholders and the demands of the 21st century in the management of elections, he added.
Read Other Articles In Article (Archive)