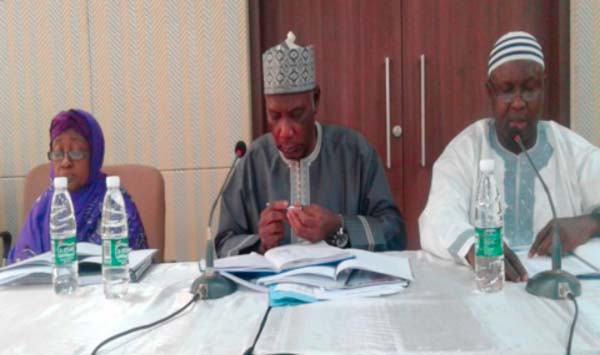 The Independent Electoral Commission (IEC) yesterday presented their annual activity report and financial statement for scrutiny before the joint session of the Public Accounts and Public Enterprises committees (PAC/PEC) of the National Assembly.
It would be recalled that the IEC's former chairman Mustapha L. Carayol, appeared solo before the PAC/PEC, which deferred receiving the IEC's reports until it to a further date because it is well represented before the lawmakers.
Presenting the annual activity report and financial statement before deputies, the IEC's new chairman Alieu Momar Njai said the IEC's guiding legal instruments are the constitution, Elections Act, Local Government Act, and some of the electoral laws that were being reviewed for better and efficient service delivery in keeping with international best practices.
Chairman Njai further reported on the IEC human resources management. He said in 2014, only a single case of resignation was received from Salieu Ceesay, former database supervisor, and that there is a low attrition rate at the IEC.
However, he added, there was staff promotions and appointments due to vacancies, and all the staff undergoing training at the university are fully sponsored by the IEC.
He said Samboujang Njie was sponsored by the African Capacity Building Foundation with some support from IEC, adding that four IEC staff also attended certificate courses on management of democratic elections in Africa at the University of South Africa, funded by the United States Agency for International Development.
Chairman Njai also told deputies about the constraints the IEC is faced with in the year under review, such as acquiring plots of land in the regions, which were earmarked for the construction of some regional offices and central stores.
"This did not happen due to lack of funds in the IEC's development budget. The fleet of vehicles and stand-by generator have aged and no longer economical to use," he said, adding that the replacement of these items could not be found easily.
He said the introduction of the Biometric Voter Registration System created more confidence in the database, adding that the agreement between the IEC and PURA to use biometric system in the database for the verification of cellular phone SIM cards registration continued in the period under review.
The IEC is expected to report back to the National Assembly on Monday for consideration of the commission's annual activity report and audited financial statement. 
Read Other Articles In Article (Archive)