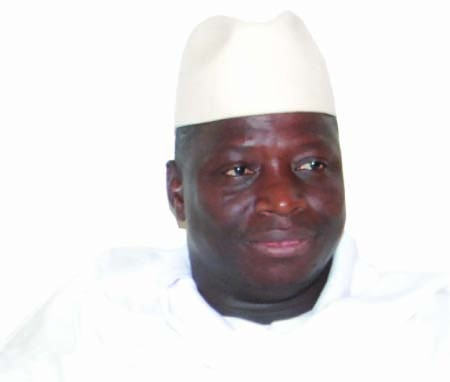 Continuing his campaign for re-election for a fourth term in office, incumbent President Yahya Jammeh has renewed his call for Gambians to ensure a violence-free election, stressing that he will not accept any form of trouble either from his own supporters or the opposition, during and after the elections.
Addressing political rallies in Jareng in Niamina East, Nioro Jattaba in Kiang West, Soma, and Bwiam in Foni Kansala in the Central River, Lower River and West Coast regions respectively, the Gambian leader said peace and stability are very paramount to the success of any nation.
According to him, without peace and stability, even the imams and priests will not be able to lead congregational prayers.
"Come 25th November, some people (the opposition) will cry, but even if they do so, you should not laugh at them because, if you do so, they can create trouble.
"But let me make it very clear that I will not accept trouble from anybody, whether you are an APRC, UDP or supporter of any registered political party in this country," Jammeh told his supporters.
Noting that his ruling APRC party constitutes 99% of both the youths and women folk in the country, Jammeh, 46, told cheering supporters that elections and campaigning are not about making trouble.
He urged the electorate to report anyone found causing trouble to the nearest Alkalo (village head), police commissioner, chief or any security personnel so that necessary action can be taken against him or her.
"Trouble is like a bush fire; if you allow it to spread it can destroy you," he stated.
"I said I will electrify the whole country, and today that promise has been fulfilled. When it comes to election percentages (voting for him), it is Foni then followed by Niamina, and so the people of Niamina will reap the benefits of always being loyal to the APRC," Jammeh told the meeting in Jareng.
He told the people of Niamina that he was in their area for two things.
"First, it was the advice of my mother, Aja Asombi Bojang, to go round the country and thank Gambians for rallying behind me for the past 17 years; and, also to discuss with the farming community how this year's farming season has gone," he said, while noting that this year's farming season was not very promising.
In meetings in Soma and Bwiam, President Jammeh again called on the people of the area and Gambians in general to maintain the peace and stability in the country, during and after the election.
He also thanked them for being loyal to him and the APRC party, noting that they will reap the benefits of being loyal to his party.
Speaker after speaker, including Yaya Jarjusey, chief of Jarra Central, all assured the Gambian leader of a landslide victory, stressing that the numerous developments brought in by the Jammeh administration is enough for Gambians to vote for him in the November polls.
Abdou Kolley, minister of Trade, Regional Integration and Employment, who is also the APRC liaison officer for the Lower River Region, described President Jammeh as an example among African presidents.
Kolley called on the people of the Lower River Region, especially those in the opposition strongholds, to throw away the opposition and rally behind the APRC if they want development in their areas.
Lamin Kaba Bajo, minister of Fisheries, Water Resources and National Assembly Matters, who is also the APRC Campaign Manager, called on the electorate to vote massively for President Jammeh as more development projects are in the offing.
Also speaking at the meetings was Waa Juwara, one-time APRC party critic and now Governor of the Lower River Region, who assured the Gambian leader of a landslide victory in his region, stating that opposition supporters in the region have now switched allegiance to the ruling APRC party.
Read Other Articles In Article (Archive)