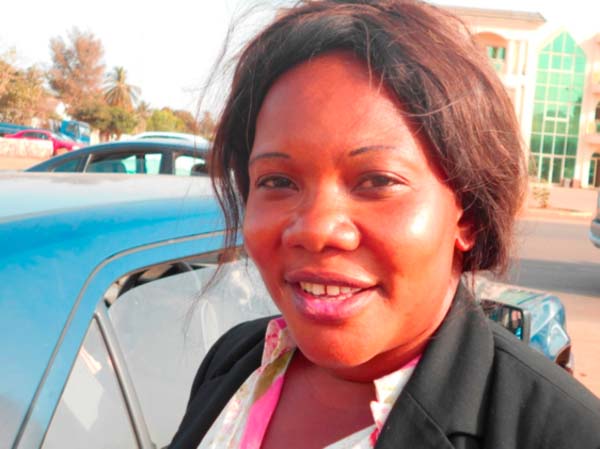 The newly-nominated candidate under the ticket of GDC in Lower Fulladu West, Central River Region, Aminata Jallow, has said she would never disappoint the GDC party, which selected her, though a female, to contest the forthcoming parliamentary elections.

She has assured GDC of a landslide victory in the forthcoming parliamentary elections.
Aminata Jallow is the only female candidate that is contesting with eight male candidates in the Lower Fulladu West, CRR, and this is the third time Ms Jallow is contesting in parliamentary elections.
Speaking to this reporter, Ms Jallow said she was born in Fullabantang village in CRR, and described herself as a politician with a difference, as she had been involved in politics since 2007.
Contesting under the APRC ticket then, she was discriminated against and disqualified because she was not married, which was shocking to her, she said.
However, she did not give up, but had continued to move on, as she is highly interested in politics.
One of the things that prompted her to join politics is the fact that women are left behind in the political terrain of the country, she revealed.
Ms Jallow took the opportunity to thank the people of Lower Fulladu West for selecting her under the GDC ticket.
She said before selecting her there was a primary election conducted, and she won the majority of the votes.
"So I believe the people have strong faith, support and confidence in me."
Asked if she has adequate resources to campaign with and mobilize the electorate, Ms Jallow said she is not new in politics. With her experience in politics and some little resources, she could reach out to the people.
According to her, she is not only going to win the election and stop there; she wants to address issues affecting women and youths with a view to bringing about development for them.
"This country belongs to all of us; hence we should work to bring about development," she said, adding: "No one will come from outside to develop The Gambia for us; we, the Gambians, especially the women and the youths should join hands to develop this country to move forward."
"Therefore, it is high time for the women to show interest and participate in politics, as we are left far behind.
Commenting on her advice to the electorate to ensure a peaceful electioneering, Ms Jallow said her party leader is a peace advocate, as he would always calls for peace to prevail.
"Everybody in this country knows about it," she emphasised.
"I am also emulating him by calling on all the electorate to maintain peace and political maturity, in the sense that without peace and stability, we cannot register any meaningful development.
"I am also advising my fellow aspiring candidates to maintain peace and stability, especially during this campaign, and I will do everything possible to play my part in the maintenance of peace in our beloved Gambia."
Ms Jallow said, as the only female candidate contesting against eight male candidates in her constituency, she would assure her party leader and all the members of GDC, that at the end of the campaign and the voting, she would emerge victorious to represent the GDC party as the National Assembly member for Lower Fulladu West constituency in CRR.
Read Other Articles In Article (Archive)