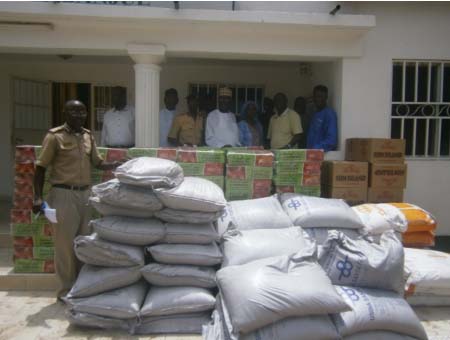 Pipeline Mosque Foundation yesterday presented bags of sugar, boxes of teabags, powder milk, and dates to Mile 2, Old Jeshwang and Janjanbureh for the Ramadan Iftar.
The food items donated to Mile 2 included 21 bags of sugar, 290 boxes of teabags, 5 bags of powder milk and 58 cartons of dates.
Those given to Old Jeshwang were 10 bags of sugar, 90 boxes of teabags, 1 bag of powder milk and 29 cartons of dates.
Janjanbureh received 5 bags of sugar, 50 boxes of teabags, 1 bag of powder milk and 15 cartons of dates.
AB Dandeh Njie,president of Pipeline Mosque Foundation, in handing over the items to Prison officials, said the gesture was part of them trying to discharge their duty and obligation to Islam but at the same time recognize the obligation of Government in ensuring that the inmates are well-looked after.
Government cannot shoulder all the burden of dispensing inmates and all other departments, he pointed out, saying that since they are undoubtedly with some funds from their sponsors they feel they are in a position to contribute.
He therefore took the opportunity to thank their sponsors who recognized the importance of the outreach programme.
He publicly acknowledged their support in helping them achieving and ensuring that inmates are well and duly taken care of.
"We think we should contribute to the welfare of inmates," he said, noting that inmates do not have the opportunity to go out and fend for themselves, which is why they chose to assist them.
He also thanked the Ministry of Interior and Prisons Department for their readiness and willingness to accept their programme and said he hopes "the gesture will be a continuous process.
Deputy Director of Gambia Prisons Department, Thomas Jarju, said their doors are always open for such gestures.
He appealed for the donation of Quranic books for the inmates as they have Quranic teachers teaching inmates willing to learn.
Oumie Kalsum Cham, Principal Assistant Secretary at the Ministry of Interior, in her remarks, thanked the foundation as well as prayed for them and their sponsors for good health, long life, protection and guidance from the Almighty Allah.
Madam Cham also appealed for Quranic books and mats on behalf of the female inmates' wing.
Lamin Sowe, Commissioner of Operations, described the gesture from the foundation as a great achievement for them as it is not easy to keep prisoners.
"You are helping us in doing our job," Sowe told Pipeline Mosque Foundation members.
He further described their gesture as a step in the right direction.
Read Other Articles In Article (Archive)