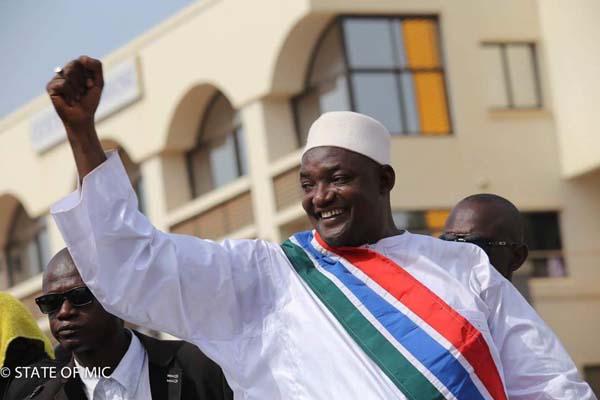 Gambia's president-elect Adama Barrow has said he has no personal grievance against or bone to pick with anyone, not even outgoing President Yahya Jammeh.

However, when he assumes office after the official handing over, he would make necessary enquiries about pertinent issues and follow the due process of law.
Barrow made this remark while speaking to The Point in an interview at his residence in Yarabamba Estate soon after he was declared winner of the just concluded December 1 presidential election.
Barrow, who won the election by simple majority with 263,515 votes beating outgoing president Yahya Jammeh by 51,416 votes, said: "I was not surprised with the election result; I knew well before the election that I will win because the crowd that was following me will translate to votes.
"My only disappointment is with the margin because I thought that there will be a bigger margin."
President Jammeh conceded defeat shortly after the Independent Electoral Commission declared the final result and he called to congratulate the president-elect via phone.
"I was not surprised with Jammeh's conceding of defeat because he clearly lost; Gambian people have spoken and their final verdict should be respected. Power belongs to the people and they have exercised such powers on the 1st December," the president-elect said.
He said if Jammeh did not release the political prisoners until the time of the final handing over, he would release them all when he assumes office.
He further explained that amending the constitution is among the first things his government will consider because "the constitution needs to be seriously amended".
Barrow said the amendments would reflect the New Gambia being created where "things will change drastically" and a Gambia that is determined to work.
He further reiterated his promises to fix the economy and halt the skyrocketing of prices, ensure job security for civil servants and improve their salaries, among other things as soon as he assumed office.
Barrow was declared president-elect of The Gambia after winning the presidential polls with 263,515 votes, whilst Jammeh polled 212,099 votes and Mamma Kandeh of GDC got 102,969 votes.
Read Other Articles In Article (Archive)