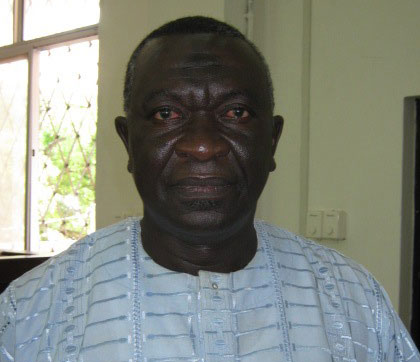 Abdoulie Sonko, one of the alleged Farafenni military camp attackers, yesterday told the High Court in Banjul that he came home from Liberia, due to the Liberian civil war.
Sonko, who is currently facing trial on treason and murder charges, is alleged to have conspired with Ballo Kanteh and others in 1996, to attack the Farafenni Army Barracks in the North Bank Region.
He is also alleged to have murdered one corporal Saikou Sidebeh, Corporal Essa Keita, Private Essa Manneh, Staff Sergeant Lamin Badjie, Private Bakary Saidy and Private Ebrima Bojang on 8 November 1996, with Ballo Kanteh and others.
Continuing his defence, Abdoulie Sonko told the court that he returned when a plane was sent by the Gambia government to evacuate Gambian citizens in Liberia, on 27 July 2003.
"I came back on 27th July 2003 with my wife and four children, and went straight to my home town in Nuimi Berrending in the North Bank Region," he told the court.
"After spending nine days at my home town, four young men came to my house, on 6th August 2003, and presented themselves as members of the NIA, and announced that they are from the NIA headquarters," Sonko added.
He said the leader of that team was one Lamin Suntu Saidykhan, who asked him whether he was among the people who came from Liberia, and his answer, given in the presence of his family, was "yes".
"At that juncture, the NIA told me that I was needed at the NIA headquarters in Banjul, and I also told them that I was on my way to Banjul. They arrested me, and I boarded their vehicle," he explained.
Asked by his counsel whether he was ever tried in The Gambia, Sonko said, "No. I was never tried in the Gambia for committing an offence. This is the first time ever."
The witness also denied knowing anything about this case, stating that PW4 Balo Kanteh has testified in an open court that he did not know him (Sonko).
He consequently refuted all the allegations levelled against him.
The case, presided over by Justice Emmanuel Amadi, was adjourned till 16th March 2011.
Read Other Articles In Article (Archive)