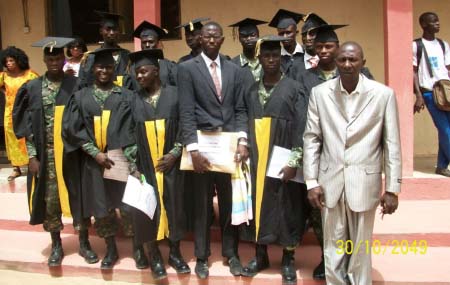 Twelve army officers of the Gambia Armed Forces have completed a 8-month course on PC hard and software installation in ICT at Da Vinci Technical Senior Secondary School in Nemasu Layout.
The graduands of the diploma course received their certificates on Friday 28 February 2014 at a graduation ceremony held at the school premises.
The officers, who successfully completed the ICT training with flying colours, included Sergeant Yankuba Fofana, Corporal Lamin Sanyang, Private Gallo Ceesay, Lance Corporal Arfang M. Joof, Corporal Yusupha Jatta, Corporal Amadou Tamba, Ordinary Seaman: Morikebba Camara, Private Sang Gomez, and Lance Corporal Lamin B. Touray.
The senior school also graduated 98 students who successfully completed their grade 12 exams for the 2013 academic year, with outstanding results.
In his remarks on the occasion, Da Vinci Technical Senior Secondary School DirectorMuhammed Lamin Kandeh said: "The school management is very pleasedto have imparted qualitative and invaluableknowledgeand skills into the armygraduandsto attain the visionof President Yahya Jammeh and his Government and the valueshe promotesto builda successful country with well educated Gambians."
He added: "Our relationship with The Gambia Armed Forces is getting stronger and we are looking forward to rendering more service to them in the years to come."
Mr Kandeh said that his learning institution will continue to support President Jammeh's dream and efforts at developing The Gambia.
The school, which started operations 5 years ago, this year has more than 144 students registered for WASSCE - the West Africa Senior School Certificate Examination.
"We have also actively registered over 300 students at our nursery school and 200 at the lower basic school of Yakanu School in Bundung," the school director said.
According to Da Vinci School ICT instructor, Lalo Kanteh, the training was designed to embrace the army officers to render more service in their work and to the nation.
"The second batch of graduates, from the Gambia Armed Forces, has achieved a lot in the area of ICT," he said. "We are blessed to have well equipped ICT lab and a broadband wireless internet connection."
While commending the graduands for having performed "extremely well and satisfactorily" throughout the training, the school principal Mr Kebba M. Sankareh thanked the school management, teachers and other staff for their professional service, He also appreciatedthose who graced the occasion including senior officials from the education and security service departments.
Read Other Articles In Article (Archive)