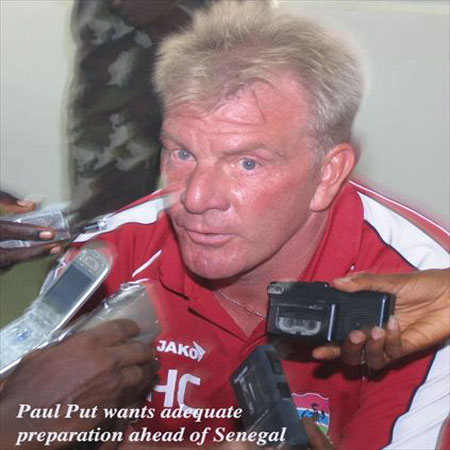 The head coach of the senior national team, Paul Put, has disclosed to reporters that he is working on a friendly game in February against Congo in Paris, as he continues efforts to build a solid team before the start of the U-23 Olympics Games qualifiers.
The Belgian tactician made this disclosure while responding to a question raised by one of the journalists who witnessed the Olympics team's 2-0 win over the Serrekunda East zonal team selection at the East Park recently.
"At the moment I am working on a friendly game in February against Congo in Paris," Paul told journalists.
He added: "We are also working hard to play two international test games on 26 and 29 February against Gabon and Morocco and try to push the date of the Olympic team's match against Benin to give our preparation a priority," says the Belgian-born tactician.
Paul was recently handed the Olympics team coaching role and since a fortnight ago has begun an intensive two-week training camp with the U-23 squad that is expected to represent The Gambia in the 2012 London Olympics Games.
The Gambia will begin the qualifying campaign with rubbing shoulders with their fellow West African counterparts, an unfamiliar opponents Benin, in Cotonou in March.
Meanwhile, as part of the new year messages, the senior national team coach Paul Put is extending new year wishes to all Gambians, especially to those who have contributed towards Gambian football during his stay in the country.
He said: "I hope the new year will bring us the best of luck in our efforts to qualify the senior national team and the U-23 in their various qualifiers, and with continues prayers from all Gambians, it will be a dream come true."
Read Other Articles In Article (Archive)