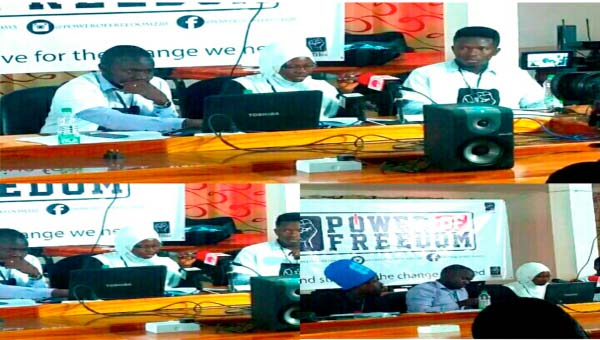 A Solo Sandeng inspired movement recently held its official launch ceremony on Sunday 16 April 2017 at the ActionAid building on the MDI road.

The movement dubbed 'POWER OF FREEDOM'' is an Open and peaceful Citizen Movement that has no affiliation with any particular ideology, religious group, tribe, political party or governmental organization.
The civic movement is mainly comprised of young Gambians, from all walks of life who stand for peace, positive change in the country and its people and social justice, without regard to gender, tribe, religion or political affiliation. They are determined to contribute their quota to nation building by helping Gambians understand and stand for their constitutional and Human Rights at a time when the future of The Gambia is at stake under the Leadership of the Second Republic.
The movement was formed following the April 14, 2016 peaceful protest organised by the United Democratic Party (UDP) in Banjul in which the founder of the movement and his comrades took part to request the release of Solo Sandeng, dead or alive. He was arrested at a previous peaceful protest seeking electoral reform and subsequently died in custody.
The incident awakened the movement to consider it a national duty to participate actively in the fight for the change to the dictatorial regime that had asphyxiated The Gambia for more than two decades.
The movement is composed of a general assembly and an executive committee with Mr Ebrima Njie as coordinator, Ms Maimuna Manneh as secretary and Fanding Njie as the treasurer.
The movement was founded by Jerreh O. Badjie and is headquartered in Kanifing South.
So far, the movement has been mounting its campaign through social media, press conferences, fence writing, coordinating peaceful protests in Dakar and the release of songs and music video(s).
The association intends to organize nationwide tours, seminars, open mic shows to discuss domestic issues and also have civic education forums to enlighten the public about their initiatives and projects which include: Youth Power Project, Educate the Masses Project,Noyy Borom Project (NBP) and Protect the Women.
The movement aims to raise intellectual and public awareness; discipline and develop positive attitudes to make Gambians responsive to national interest and achieve greater political and social power for the people.
Membership to the movement is open to the general public.
They can be reached at: Kanifing South, the Gambia
Tel: (+221) 771364135 - Senegal
(+220) 3777080 - The Gambia
Email: poweroffreedom220@gmail.com
Read Other Articles In Article (Archive)