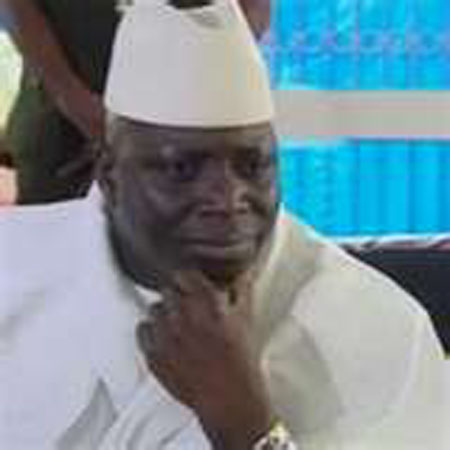 President Yahya Jammeh has said he has no 'hatred' and that he is not 'hostile' to any journalist in this country, stressing, however, that he will not compromise on national security.
Jammeh, who was speaking Wednesday evening when he met media chiefs and editors of the independent press at State House in Banjul, stated that he had sworn to uphold the constitution and the laws of The Gambia; to defend the interest of this country, something he stressed he is ready to pay any price for.
The meeting brought together media chiefs and their editors with cabinet members with the sole objective of trashing out any misunderstanding between the state and the independent press.
It, among others, availed Gambian media chiefs, as well as the Executive, the opportunity to raise and address pressing issues, and bring about wider understanding between the two sides.
"I'm not hostile to any one of you. When you cross the line and offend, the recourse said that, like anyone in this only country, if you are aggrieved, you resort to the law, and that is what I do. When some of you offended me, I took you to court. I have no hatred for anyone, but I will not compromise national security. The peace and stability of this country, I will never compromise," Jammeh told the meeting.
According to him, "when a journalist dies, they say it is the President, it is the Government", and what is interesting is that they will not come and tell them how they know it was the Government.
"The image given of The Gambia is that Gambia is a dangerous place for journalists to live. Well, as far as I'm concerned, that will not give me grey hair. All of us are responsible for the peace and stability of this country," he noted.
The Gambian leader again emphasized that his government has nothing to do with the death of journalist Deyda Hydara, and the disappearance of journalist Chief Ebrima Manneh.
"Let me make it very clear that my government has nothing to do with the death of Deyda Hydara and Chief Ebrima Manneh. There is no genuine reason why the government will kill Deyda Hydara. If I have a good reason to kill Deyda Hydara, I will take him to court and, if convicted, will follow what the court says," Jammeh added.
"Let me repeat myself, that if I have to kill anyone of you, I will take you to a court of law because I have sworn that I will uphold the laws and constitution of The Gambia, and to defend the interest of this country for which I am ready to pay any price. But I will not trample on the rights of any individual.
"I'm not here to give you a lecture, but am here to tell you what my position is. As long as you do not endanger the interest of this country, you are my friend. As long as you are hell bent on destroying this country, get ready because I will not listen to any Westerner. If you don't like this country, leave. In fact, if I want to close any newspaper because you have violated the laws, I will close it.
"I want to tell you that we are not your enemies. You have a duty; I also have a duty. Information is power, and you have a positive role to play in national development, peace and stability," he further stated.
Jammeh reminded the journalists that when his government came in, they used to have briefings with the press, but stressed that this was discontinued due to misrepresentation.  
"When we say this thing, instead of writing exactly what we said, you decided to say what I didn't say, as if you are Yahya Jammeh. You want to say Yahya Jammeh wanted to say this, but he didn't say it or Yahya Jammeh said this, but this was exactly what he wanted to say. You say what is in my mind," he stated.
"So, if you want information, and you talk to the person who you want information from; and the person says 'oh, we are not allowed to give information', ask the person who did not allow you to give information. But don't go and generalise that Yahya Jammeh's government does not even allow public officials to talk".
He stressed that he is not here to enrich himself, but to make sure that Africans, who he said are today synonymous with poverty and backwardness, would one day walk with their heads and shoulders held high, as they did before the coming of the whiteman.
President Jammeh also pointed out that the proliferation of media outlets, both print and electronic, goes to vindicate his government in terms of press freedom, noting that this was not happening then. He then pointed out that if his government does not want the press, it would not have allowed the operation of these outlets, given the fact that it is the government that issued a licence, and hence none of them could have operated without a licence.
Alagie Cham, minister of Communication, commended President Jammeh for making his position and that of his government very clear. He noted that there is this perception about lack of press freedom, which, according to him, has been eloquently expressed by President Jammeh.
The secretary general and head of the Civil Service, Dr Njogu Bah, described the press as partners in development and as partners in ensuring peace and stability in this country. However, he deplored the lack of responsibility in the media, underscoring that responsibility is important in whatever one does.
According to him, government's problem with the media is the lack of responsibility that is attached or what accompanies what they (the media) write or when they write.
"Responsibility is very important in whatever we do, and when we decide to write something or to tell a story, we need to make so that our facts are straight, and we can back it up," he added.
"Nobody is saying don't write anything negative about what government does, but constructive criticism is what we are asking for," he stated, while stressing the need for genuine partnership between the government and the press. 
Other speakers at the meeting included Mambury Njie, minister of Finance and Economic Affairs, Fatim Badjie, minister of Health, who all expressed the need for professionalism and capacity building in the media.
Ms Fatou Camara Director of Press and Public Relations chaired the meeting.
Read Other Articles In Article (Archive)