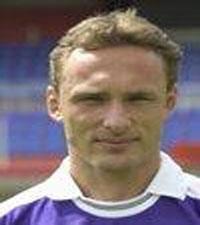 After seeing his side humiliated 3-0 by the Scorpions  of The Gambia on Saturday 6th September 2008, in the World and African Cup preliminaries round at the Independence Stadium in Bakau, the Head Coach of the Lone Stars of Liberia Antoine Hey has explained that he was proven wrong by the Gambian team who had the tradition of not being able to score  many goals.
Liberia, who were determined to beat The Gambia at home, had a slogan printed on their t-shirts  which read "Operation Defeat the Scorpions". They however went home shamed.
Speaking to reporters after the game, coach Hey said, "I was proven wrong when I said that  the Gambian team don't score goals. The Gambia deserved to win the game they  have shown a lot of forward movements and very aggressive play. It was a very good game for The Gambia and they deserve it  and I wish them good luck in Senegal."
He said, "my  players were very depressed after the results between Algeria and Senegal, so the game was nothing for us and we never really picked up for this game. We didn't show enough concentration and that was necessary for us to play."  Coach Hey added, " The Gambia team, which is  a mixture of young players from the U-17 and U-20 team and they are good, young, talented players and have a long future. I see a bright future in Gambian football."
According to Antoine Hey, "we are going to take our game with Algeria very seriously, it is a home game for us and we have to show our fans something so we are going to take the game seriously," he concluded.
Read Other Articles In Article (Archive)