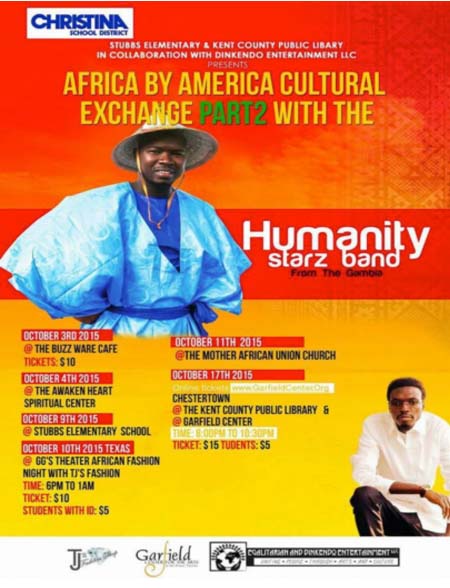 Members of Humanity Starz Band have expressed their disappointment that the US Embassy in Banjul denied the band members a U.S. visa to travel to the US, where they were expected to make waves in Gambian music.
According to the band members, they were supposed to be in the US since October 3, but the trip was cancelled due to visa denial by the US Embassy.
Speaking to journalists at a press briefing held recently at the Alliance Francise, Mbye Bittaye, Humanity Starz Band manager, said the band was refused visa by the US Embassy after been promised that they were going to give them visas.
The band manager further told journalists that this was after a huge preparation towards the much-anticipated performance in the US, only for the embassy to deny them visas at the last hour.
They were to expose the music of The Gambia to another level, but this was not possible because of some reasons.
According to Bittaye, everything was prepared and they got permission from the Music Federation in the US, adding that everything was paid in the US and it was now for them to go and perform legally.
The promoter of Egalitarian and Dinding Kendo Entertainment did every necessary arrangement for the trip to the US, including the venue which was also paid, Bittaye stated.
Mr Bittaye disclosed that the band had been together for eleven years, and this was not the first time the band has travelled abroad.
He added that the band first travelled to Venezuela, South America, and if they had wanted to abscond, they would have absconded because that could have been a better chance for the band members.
He said they were not blaming anybody for the failure of the trip, but there some people who have really put them in limbo by calling Egalitarian and sending him messages that "these boys should not come here".
"We understand that the US has their own way of whatever things they do, but the Humanity Band is not here for temporary existence, but is here to stay and we cannot expose our music if we are not supported," he said.
Bittaye added that this is not only the US embassy, but every other embassy in The Gambia should definitely give visas to artistes.
Unlike The Gambia, other embassies in other countries give visas to artistes to go and perform and come back, so why not in The Gambia
He said the American Embassy was asking them about their marital status, adding that American artistes do not get married at their early age.
"Even if you are not married, but you have a career," Bittaye stated.
Read Other Articles In Article (Archive)