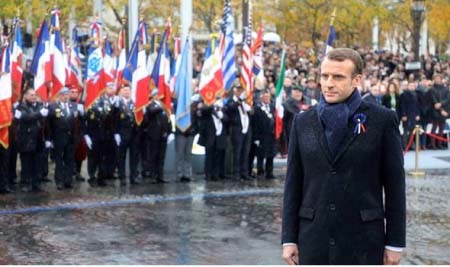 As the argumentative and sometimes belligerent immigration issue in Europe refuses to die down, a sudden and drastic possibility of introducing and setting of quotas is also expected to take effect in France. Consequently, it is expected to affect and upset hundreds of Senegambians living and working in the country.

According to critics, the sweeping transformation agreed upon for the first time was also highly anticipated as ''mere attempt to pander to the right-wing voters''. However, officials reassured everyone that it will be done in an "objective, transparent and impartial manner.''
President Emmanuel Macron, already has confirmed that immigration would be a central issue during the next presidential elections. Labour Minister Muriel Penicaud also publicly confirmed recently that government might set out quotas so that ''foreigners could only fill the gap…where industries lacked qualified candidates''.
The announcement came as a shocking disclosure to Senegambians who are currently working either full time or part time in various industries and other companies around the country; some living with family members of French citizens.
Aly Gueye, Freelance reporter and part-time chef in Paris, speaking to The Point said: ''Indeed it is a shock to us…even some journalists are aghast because they never expected it.'' However, Gueye, is optimistic that hardworking and industrious Senegambians are competent at work and therefore would continue to earn a decent living and send money back home.
This correspondent also uncovered that the package is more than 20 different measures and some Senegalese and Gambians are equally worried about the proposed restriction on migrants to bring family members to France in order to join them. This is considered an important issue regarding their private and family lives.
Furthermore, the new rules would also limit access to health care for asylum seekers waiting for their various asylum claims to be treated. It would have a knock-on effect on refugees prompting human right groups calling for an ''immediate amendment''.
Already the French government is under immense pressure from the far-right National Rally seen by many of its supporters as more 'caring to the ordinary citizens.' Marine Le Pen, the party's leader has already made gains in recent local elections and is focusing more than ever before on immigration and asylum in the run up to the next elections.
But the gravity of the burden was announced after the country received a reported record of over 122,000 asylum seekers just last year alone. The figure is up and currently it is nearly 22 percent thus anti-immigration parties are using it as an excuse to attack the government further and garner more votes.
Nonetheless, as the immigration debate intensifies in Europe, Senegambians in France hope and pray that their conditions and circumstances would be considered adequately in any decision making process.
Read Other Articles In Article (Archive)