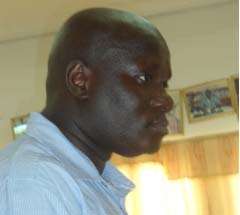 Governments all over the world are duty bearers when it comes to ensuring respect for human rights. Human rights are not gifts bestowed at the pleasure of governments nor should governments withhold them or apply them to some people, but not to others, Madi Jobarteh, program manager at TANGO has said.
He told participants that when governments do so, they should be held accountable.
TANGO is the Association of Non Governmental Organisation in The Gambia, and Jobarteh was presenting a paper to a cross section of duty bearers at the opening of a three-day Non State Actors Regional Training Workshop held at the TANGO office yesterday.
"Governments are the primary duty bearers for rights. Every individual has a responsibility to teach human rights, to respect human rights, and to challenge institutions and individuals that abuse human rights," he stated.
Presenting his paper on the topic: "Understanding Human Rights", Jobarteh told participants that every organ of society, including corporations, NGOs, foundations, and educational institutions also share a responsibility for the promotion and protection of rights.
However, human rights go with duties and responsibilities, and every human right has a corresponding duty, he added.
"Human rights are meaningful only if respected and protected," he continued.
Jobarteh further stated that human rights are the birthright of every member of the human family. He noted that no one has to earn or deserve human rights, because human rights are not granted by any human authority such as a monarch, government, or secular or religious authority.
"They are not the same as civil rights", he pointed out.
In his view, constitutional rights are granted to individuals by virtue of their citizenship or residence in a particular country, whereas human rights are inherent and held as attributes of the human personality.
"Human rights are both abstract and practical. They hold up the inspiring vision of a free, just, and peaceful world and set minimum standards for how both individuals and institutions should treat people.
"They also empower people to take action to demand and defend their rights and the rights of others; human rights values are rooted in the wisdom of literature, traditional values and religious teachings of almost every culture," he noted further.
Jobarteh also stated that respect for human rights by individuals and governments lays the basis for peace and stability; a culture of rights in governance serves as the security and safety of all persons in society; a threat to human rights endangers all members of the society."
Jobarteh is also of the firm belief that development cannot be sustainable without regard to respect for rights and freedoms.
Dilating on human rights concept and principles, he said human dignity affirms that all people deserve to be respected simply because they are human beings, noting that: "all individuals deserve equal respect regardless of age, sex, origin, status, religious or other orientation."
He concluded by saying that the rights that individuals have cannot be taken away, surrendered, or transferred.
Meanwhile, addressing the participants, the Executive Director of TANGO, Ousman Yarbo, said the significance of the training workshop cannot be overemphasized as human rights are a global concern.
According to him, human rights basically are about the way people live, way people should be treated; interact; and the way things should be done.
Njundu Drammeh coordinator of the Child Protection Alliance also gave a presentation, while Kebba K. Barrow of TANGO delivered the welcome remarks.
Read Other Articles In Article (Archive)