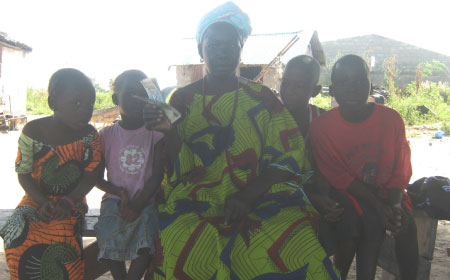 Houston-Gambian Community based in the United States of America Saturday donated four thousand dalasis to two needy families in Essau and Fass, in the North Bank Region.
The donation, which is part of the Houston-Gambian Community's "Feed A Family" project, is among others, geared towards providing assistance to families in rural villages who otherwise have very little access to opportunities for basic necessities.
Presenting the money on behalf of the donors, Baboucarr Senghore, Editor-in-Chief of The Point newspaper, greeted the beneficiaries and members of the community on behalf of the Houston-Gambian Community (HGC).
Mr. Senghore, who served as a trustee in identifying deserving beneficiaries for the assistance in the targeted population, said the goal of the HGC was to start the project right away with its first disbursement aimed to coincide with the holy feast of Tobaski.
He told the beneficiaries that the community seeks to maintain this gesture as an ongoing initiative with more assistance to be delivered to selected families on a monthly basis.
According to him, the number of beneficiaries may range from 1 to 3 depending on the amount raised in a given month or the presence of an urgent need that may require the total sum to go to one family.
He also explained that monthly amounts might vary from month to month based on how much the HGC is able to raise in a given month.
While calling on others to emulate the gesture, Mr. Senghore advised the beneficiaries to make best use of the donated money.
Also speaking at the presentation ceremony, Mariama Baldeh, a beneficiary in the village of Fass, commended the donors for the gesture, saying "it is timely".
According to her, the gesture did come at a time the Tobaski feast was fast approaching and when one of her children is staying at home for non-payment of school fees.
"We are really grateful and we pray for the donors for God's guidance," she said, while calling on other donors to emulate the HGC.
She assured the donors that the donated cash will be utilised judiciously.
Amie Njie, also a beneficiary in the village of Essau, expressed gratitude to the donors for coming to her aid at a time she was in dire need of assistance.
Also describing the donation as timely, Amie, 54, assured the donors that the money donated will be properly utilised.
Read Other Articles In Article (Archive)