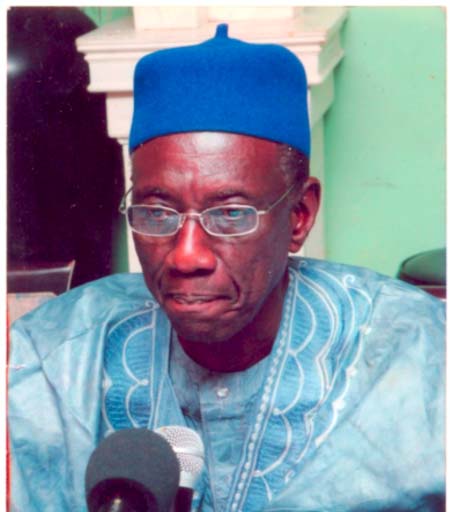 INNA LILLAHI WA 
INNA ELAIHI RAJIOUN
From the onset, let me stress that my acquaintance with the late Alh. Mansour Njie dates back to the late 1960s, when we moved house from 18 Allen Street to No.1 Kombo Street where we became virtually next door neighbours, as their family house was literally around the corner on No.2 Thompson Street. I have since always considered him an uncle on the account that he shared the same surname with my late mother who treated him as a cousin. This affinity still endured even after we relocated to our own 19 Imam Omar Sowe family dwelling.
However, it was only when I started presenting a weekly Islamic programme, 'The Muslim World' on what was then Radio Gambia that I built a closer rapport with him. Being the perfectionist he was in his trade, this veteran journalist par excellence used to advise and encourage me to improve upon my presentation. As fate would have it, I forged more or less a similar rapport with his brother, Hatib during my stint as a senior diplomat at the Gambia High Commission in London.
Even prior to that when I travelled to the Sudan to further my studies at a tertiary level, my ties with this great man were revived and renewed upon my return and I can still vividly remember with fond memories, his role as a moderator only a couple of years ago during the consummation of the marriage of my niece, daughter of my elder cousin and his former colleague, Dr Sidi Jammeh, at the Bakau Mosque. Alas, that was to be the last time we met. As usual, he was full of life and vim and was in his element throughout the ceremony, leaving no details unattended to in his meticulous approach to issues. He was simply larger than life in both his intellect and power of character.
I was listening to one of the panellists during a discussion in tribute to the late Mansour on the evening of the very day of his sudden departure and I heard him say that the Gambian media had lost a great member of the fraternity. I cannot agree more as the names Badou Lowe and Mansour Njie were household catchphrases in the heyday of Radio Gambia. Indeed the contributions of these two iconic media giants to the evolution and development of radio journalism in the Gambia were both legendary and indispensable. They were among the pioneers who laid the solid foundation on which the whole broadcasting industry was anchored. But when it comes to Mansour's fame as a media celebrity and anchor since those early days, it has been such that not only was he held in high esteem within his native Gambia, but far afield in neighbouring Senegal. His command of the trade of journalism and broadcasting and his insight into matters of oral history were so profound that he was much sought after. He was in terms of his deep appreciation of culture and tradition a walking encyclopaedia in his own right.
To say that he was gentle, kind-hearted and down-to-earth would be an understatement. So unassuming and accessible also he had been, that he endeared himself to all those who came into contact with him either at the workplace or through the many social interactions and functions which were normally without much life if he did not grace them with his personal presence. With him now gone, a rich library is lost. We shall no doubt miss his many insightful but animated radio and television sessions which we all always looked forward to and during which he imparted deep knowledge and wisdom not only to his audience but to posterity as well. He will therefore be remembered for those inspiring programmes and many other contributions he had made in the service of his dear country and society.
As the whole nation mourns and celebrates the life of Alh. Mansour, we would like to offer his bereaved family and the entire Gambian populace our profound heartfelt condolences and sympathy in this very difficult moment of the colossal loss that they have suffered, praying to Allah SWT to inspire them the endurance needed for them to cope with the tragic situation that has befallen them as a result of his untimely passing.
Adieu, Koto Mansour and rest in the eternal peace and comfort of Jannatul Firdaws with the SIDDIQEEN WASSHUHADA'A WASSALIHEEN till we meet again.
Read Other Articles In Article (Archive)