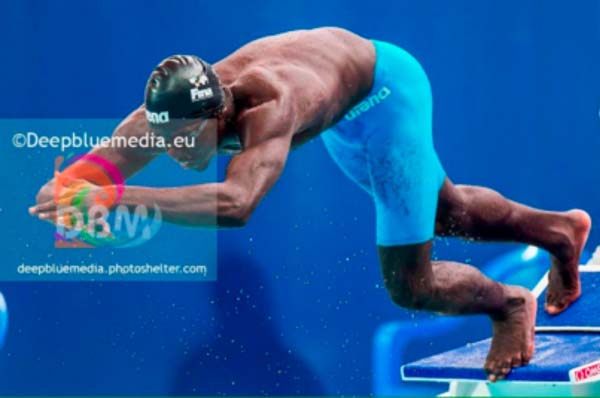 Gambia 50m sprinter Pap D. Jonga has set new records of his Personal Best in the exciting city of Kazan, Russian, last week in 50m freestyle and 50m butterfly.
The national swimming team participated in the recently concluded 16th FINA World Swimming Championship 2015 in KAZAN, the capital of Tatartan, Russia.
The FINA World Championships are the largest international aquatic sports event hosted by the International Swimming Federation (FINA).
It's one of the most watched international sporting events. According to an independent report, the latest edition reached a total worldwide television audience of almost 4.5 billion viewers.
The FINA World Championships were first held in 1973 in Belgrade (Yugoslavia). From 1978 to1998, the Championships were staged every four years, in the years between Summer Olympic period. From 2001, the World Championships have been held every two years, in the odd years.
At present, the FINA World Championships programme includes the following aquatic sport: swimming, diving, open water swimming, synchronised swimming, water polo and high diving.
This year's world-class event was held from 24 July to 9 August 2015, in conjunction with the 16th FINA World Masters Championship 2015. The medal table was topped by the Peoples Republic of China with a total of 35 medals ( 15 Gold, 10 silver and 10 Bronzes), followed by the United States of America with a total of 33 medals ( 13 Gold, 14 Silver and 6 Bronzes), then Russia with9 Gold, 4 Silver and 4 Bronzes.
Two swimmers represented The Gambia in this World Championship and Olympic Qualifier for Rio 2016. Momodou Lamin Saine from Bakau, competed in the 50m Breaststroke for the first time with a finishing timing of 0:41.49, whilst Pap D. Jonga from Barra competed in three events. These are 50m freestyle with an entry timing of 0:30.00sec and a finishing timing of 0:27.24sec. In the 50m Butterfly, entry timing of 0:39.57sec and a finishing timing of 0:32.36sec.
According to the national team coach Raoul Sambou, this was a great achievement for his team. They had little preparation of about 10 days of camping in Senegal where they could access 50 meter Olympic Swimming Pool to build up their techniques, timings, psychology and learn new changes in the strokes and competition rules. This camp helped them knock off their 12 FINA World Championship (25m) short course timing, he said.
The trip was made possible with the unflinching support of the Gambia National Olympic Committee, who airlifted the two athletes to the world games.
The delegation was headed by Secretary General Yorro Njie, who doubled as an International Technical Officer (ITO) at the 16th FINA World Masters Championship as a the only referee from The Gambia.
Read Other Articles In Article (Archive)